This report is part of the event report series on International Open Data Day 2019. On Saturday 2nd March, groups from around the world organised over 300 events to celebrate, promote and spread the use of open data. BudgIT Foundation and Connected Development (CODE) received funding through the mini-grant scheme by Hivos / Open Contracting Partnership, to organise events under the Follow public money flows theme. This is a joint report produced by Ayomide Faleye and Yakubu Titus Tukurah: their biographies are included at the bottom of this post.
Open Data Day with BudgIT, Nigeria
When the message to host a community event celebrating the International Open Data Day was put out to the community members of Yaba Local Council Development Area, we didn't expect the turnout that graced the event. For a nation whose government takes pride in its ability to keep citizens in the dark about government activities, the huge response was a breath of fresh air.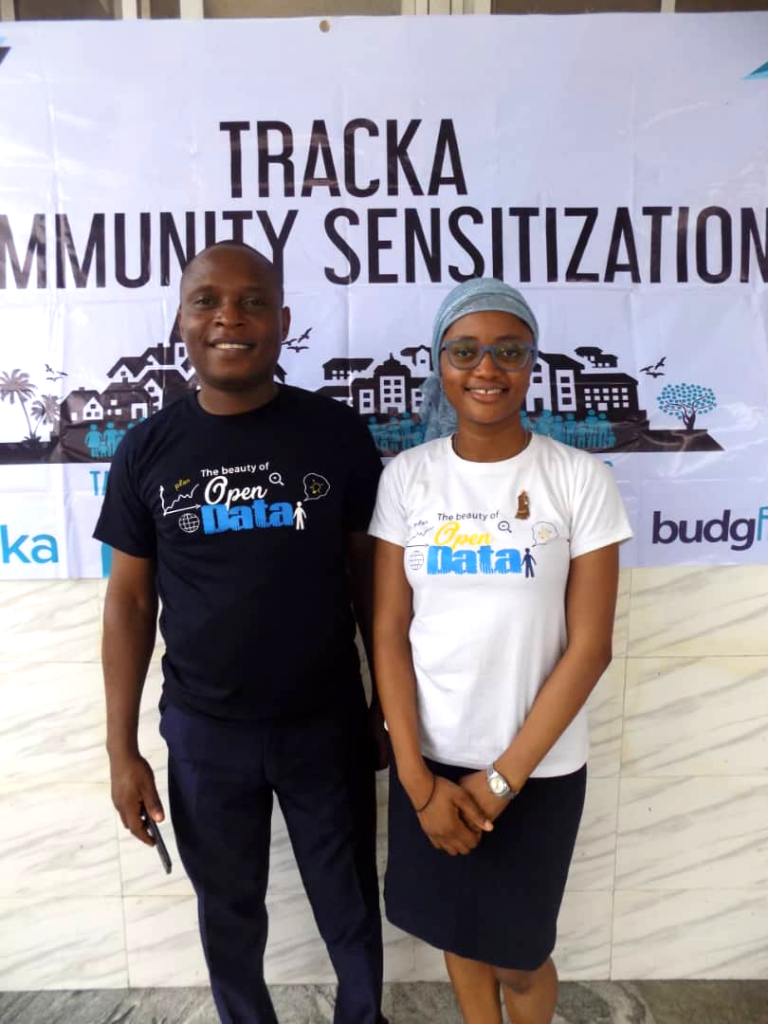 Over fifty people attended the event, among which were students, health workers, traders, engineers, clergymen, and community leaders.
The event kicked off with Ayomide Faleye defining open data, stating its importance in the development of any economy and how citizens can use it as a tool to demand accountability and transparency from their government. 
She explained what civic duties are and tracking how public funds are used is an important civic duty. She also asked the participants for their perception of Open Data to which a participant answered that it meant data which has been processed for public consumption.
Ayomide took participants through how citizens can have access to the national and state budgets and be aware of funds allocated to community projects. Emphasizing on the need for citizens to demand transparency from the government during the execution of community projects, she also stated that it is the duty of journalists to criticize, peruse and ask questions about government policies, ensuring every action is in the best interest of the citizens.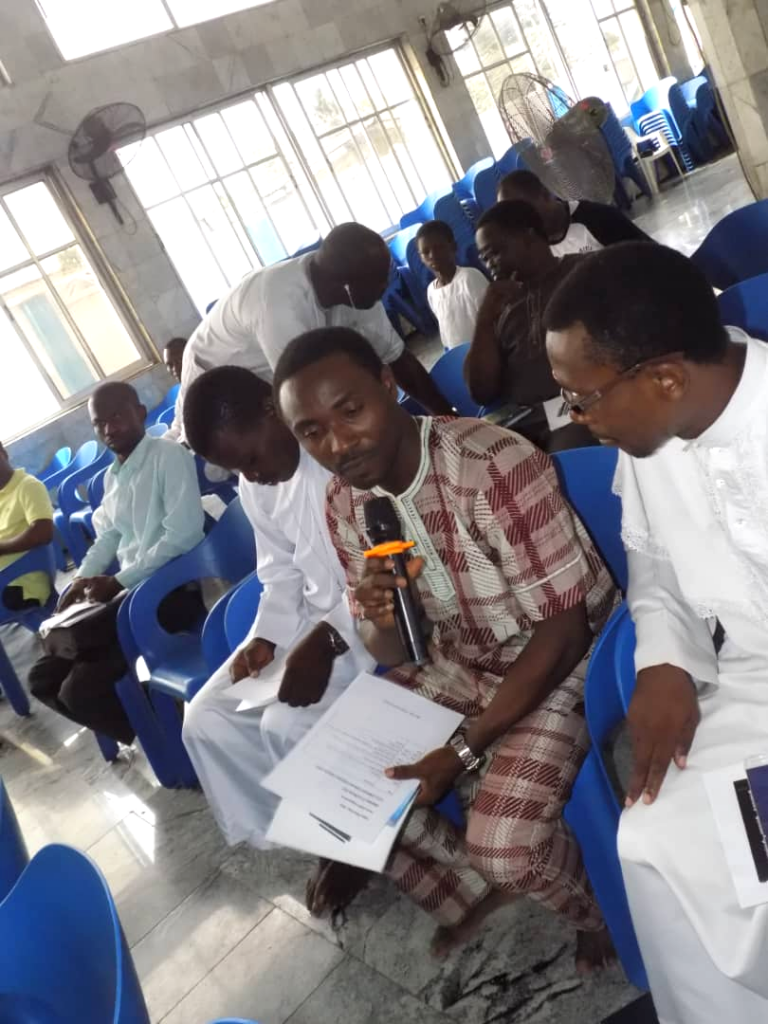 Open data should be a tool used by citizens to drive societal change.  As a citizen, how many times have you asked questions? How many changes have you initiated?
Questions
Uadamen Ilevbaoje, Tracka Project manager handled the next session. He began by explaining how Tracka developed as an offshoot of BudgIT which monitors government budget and its intricacies. Tracka goes to communities, share budget pamphlets to citizens to enlighten them about government's plans for their community while enlightening them on how to demand accountability and transparency from their representatives to ensure excellent service delivery.
He showed the participants several projects in different states and their current statuses and also gave instances where Tracka intervened and the results were successful. An example was the renovation of a healthcare centre in Sokoto which was nominated for 34 million naira but nothing was done and patients were sleeping on bare floor without mattresses. Tracka discovered the discrepancy, alerted the public about it and the health care centre was renovated.
Ayomide facilitated the Question and Answer session, the most interesting and interactive session. Participants asked several questions some of which are;
Are security measures being put in place to protect citizens who decide to criticize or demand accountability from their representatives?

where do we find the data to track how public funds are spent?
Participants made observations around the state of the nation and how although it is a long shot, expressed their willingness to contribute their quota to ensure the nation is back on track. Some said their optimism is on the basis of the work done by that organization like Tracka and BudgIT and also, events such as this prove that they are not alone in the fight for a new nation and this gives a strengthened hope for Nigeria's prospects. The event was brought to a close after the Q&A session.
A major takeaway from the event is the discovery of citizen readiness to hold elected officials accountable. Before the programme commenced, the majority of attendees were unaware of steps to take in calling for accountability while some feared for their safety. At the end of the programme, participants were eager to discuss with the convener and speaker, wanting to know more, speaking about their experiences and commending the convener for a job well done.
The audience also clamoured for the continuation of the event in the community. This will empower them to be better advocates for a more open and transparent government. Group photographs were taken to capture the highlights of a day well-spent. The event was also captured in the media.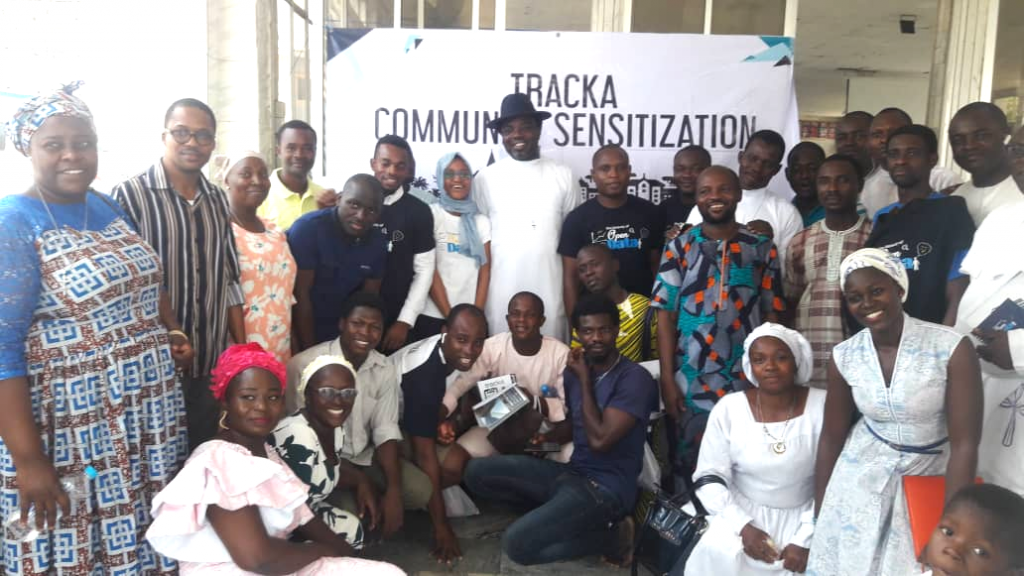 Open Data Day with Connected Development [CODE], Nigeria
The open and accessible data revolution is underway. Citizens no longer want to be passive recipients of legislation that is considered 'inflicted' upon them but rather, seek constructive ways to engage–contribute-use the formation of public policy as a means to enhance their civic responsibilities in ensuring that people in marginalized communities are empowered. However, for this to happen, any engagement needs to orientate around evidence that is held up by facts draw out from open sources of big data. Consequentially, public engagement is reshaping how knowledge is developed, shared and used by citizens and stakeholder communities.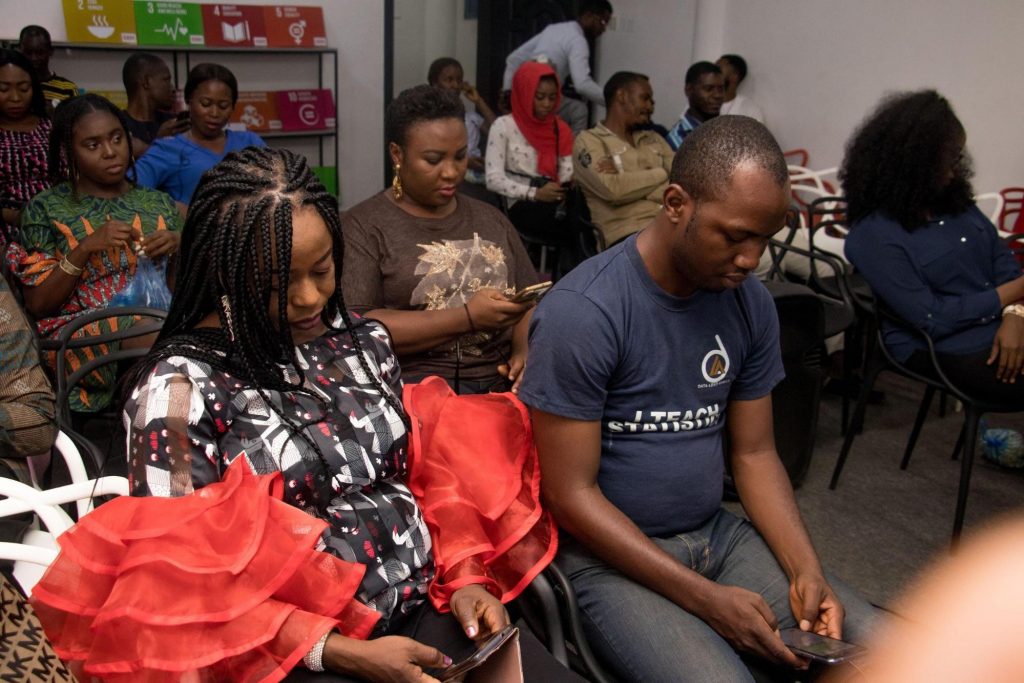 The Open Data Day on March 2nd, 2019 was hosted by Titus of Connected Development [CODE] – Follow The Money Initiative in FCT Abuja Nigeria with about over 50 participants that attended the event. The agenda is to show the benefits of open data and encourage the adoption of open data policies in government, business, and civil society. The event brought together data enthusiasts among social workers, journalists, academics, government officials, youth, students, civil society organizations, community-based organizations and activists from all over the city of Abuja. They learned and shared skills around using data to enhance their activities in providing solutions to burning issues affecting people in rural communities.
The event was focused on why government and individuals should open up their data for good governance and transparency with notable speakers and facilitators: Mukhtar Halilu (Asst. Community Engagement FollowTheMoney), Frank (Data Analyst- Data Lead Africa), Muhammed (Reboot), Jennifer Faeren (Journalist), and the host Yakubu Titus Tukurah (Data Visualizer- FollowTheMoney).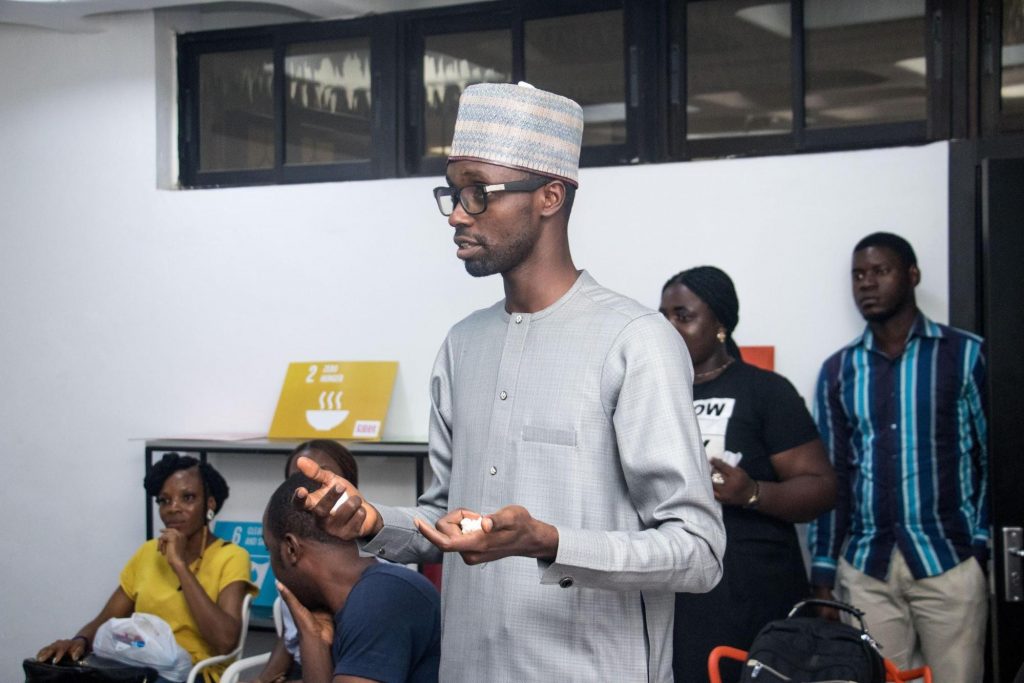 The concepts of "accountability" and "transparency" provide insight in understanding how open data requirements and expectations are achieved in different circumstances and the goal of open data has been to open all non-personal and non-commercial data, especially data collected and processed by government organizations. Mukhtar, a community engager, stated that one of the most notable advantages of open data is that making government data transparent increases public trust in government and civil servants, and also allows citizens to hold the government officials accountable for good governance.
Frank, a data analyst from Data Lead Africa took a session on why government and individuals should open up their data and gave insight that, one of the key purposes of open data platforms is to promote access to government data and encourage development of creative tools and applications to engage and serve the wider community through the visualization of patterns and relationships. He added that in doing so, enabling civic engagement by providing an opportunity for citizens, public sector organizations, businesses, and independent developers to use a systematically-updated stream of open data is being encouraged.
Biographies
Ayomide Faleye is a Research Analyst, and Program manager for Open Government Partnership Programs at BudgIT. She is the National Coordinator, Open Alliance Nigeria, a group of Civil Society Organisations seeking to promote good governance in Nigeria and ensure that it derives maximum benefit from openness and transparency needed for inclusive development and efficient service delivery. She graduated with a Bachelor's degree in History and Strategic Studies at the University of Lagos, Akoka, Lagos, Nigeria. Since joining BudgIT in 2015, a civic startup backed by Gates Foundation, Omidyar Network, McArthur, she has been handling projects that advocates for transparency and accountability around government fiscal policy, Open Data, and governance. She is a lover of children and Football.
Yakubu Titus Tukurah is a Campaigner and Researcher. A diploma holder in Surveying and Geo-informatics with more than 3 years experience in data visualization. Currently volunteering for United Nation Foundation, Amnesty International, One Campaign, Youth-hub Africa, and a Yali Fellow. Born and raised in Kaduna Nigeria with a burning desire and passion to drive change to marginalized communities ensuring their voices are heard.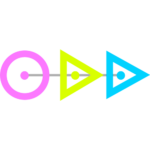 Open Data Day is the annual global celebration of open data. Each year, groups from around the world organise local events to celebrate, promote and spread the use of open data in their communities. It is an opportunity to show the benefits of open data and encourage the adoption of open data policies in government, business and civil society.
Email opendataday@okfn.org to contact the Open Data Day team.