This report is part of the event report series on International Open Data Day 2019. On Saturday 2nd March, groups from around the world organised over 300 events to celebrate, promote and spread the use of open data. This is a joint report produced by Técnicas Rudas and SocialTIC from Mexico, who received funding through the mini-grant scheme by the Latin American Initiative for Open Data (ILDA) to organise events under the Open Mapping and Tracking Public Money themes.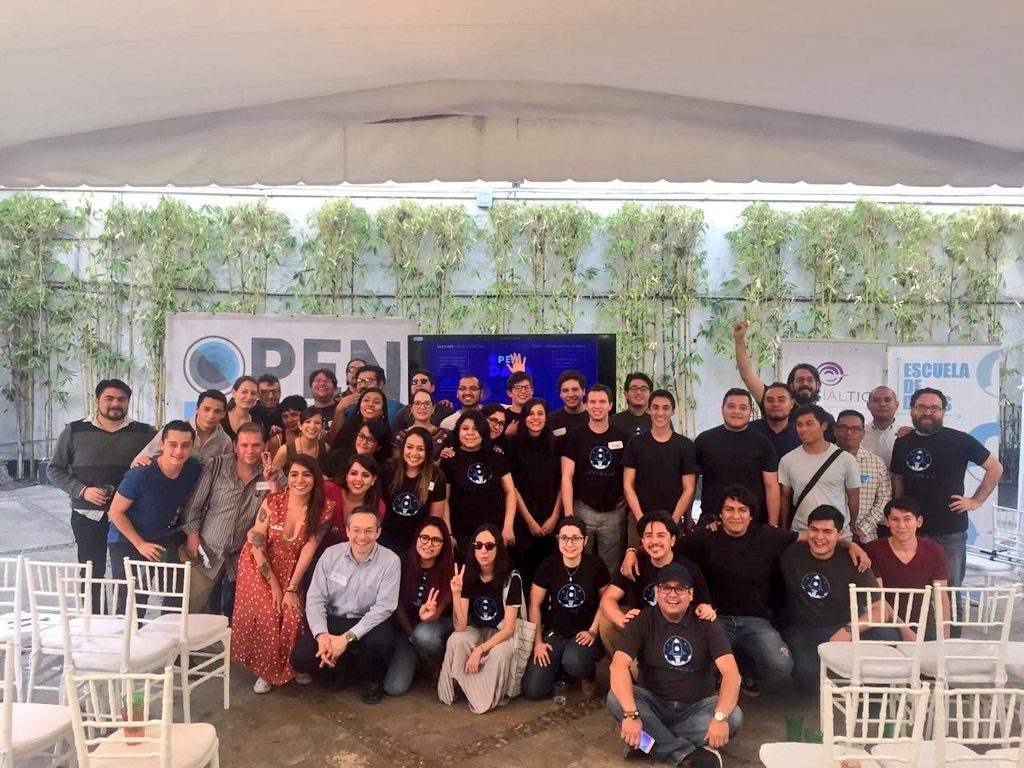 Open Data Day is the annual festival where communities and people interested in the use of data come together to share "data love", learn, release data, share projects, and create solutions through open data.
In Mexico City, this 2019 is the sixth consecutive year that we celebrate the ODD19. This time we had a whole data festival with activities to choose from: workshops, data expeditions, projects, public buildings rally, data city challenges. Close to 120 people from civil society,  local government and  communities interested in open data participated.
How did we celebrate the data party?
Workshops
The workshops of this edition covered intro and advanced levels on the use and handling of data. The topics were: data analysis with Kibana, data extraction of FOIA requests, analogous visualization of data on public building, fundamentals of dataviz, the use of data for geolocation, public policy and essential statistics. We also had a discussion on the dark gaps of artificial intelligence.
You can find the content of some workshops here:
Data expeditions
With objectives ranging from exploring data on mobility, security, budget, town planning and gender, to public contracts; the data expeditions are designed for diverse groups to share skills, hypotheses and conclusions based on data.
Federal Public Building Rally
This is the fourth consecutive year in which Transparencia Presupuestaria organizes the rally to verify how the goverment spent the money on public infrastructure. With participants from 30 states, Estado de México, Puebla and Oaxaca were the states with the largest number of participants.
Public Building Rally in Mexico City
This year the public building rally was also done at city level. An exercise to know and verify the use of the city budget (drainage, public lighting, soccer fields). In this edition, almost 600 million Mexican pesos involved in public building were verified.
Projects
In the space to learn about projects, we got acquainted with initiatives related to transparency, accountability, public contracts, data about violence against women, and justice.
Some of the projects based on data:
A walkability audit with a feminist perspective to evaluate and propose improvements in infrastructure and urban design of the city (@Futura_org)
Justicia Transparente, an audit exercise that analyzes data on insecurity and distrust in the authorities linked to criminal procedure (@IMCO)
A summary, some pics and tweets, and related projects are available here: (Spanish) https://socialtic.org/blog/asi-celebramos-la-fiesta-de-los-datos-abiertos-odd19-en-ciudad-de-mexico/
Data against violence
by Técnicas Rudas and GeoChicas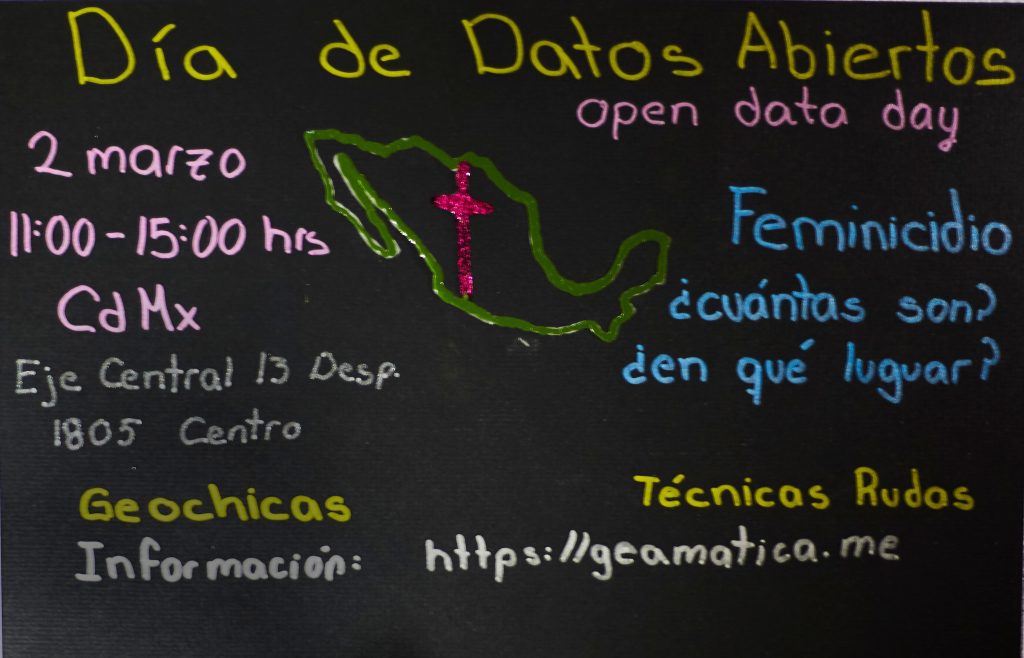 In Mexico, one can't help but to be inspired by the powerful women's movement there is here. However, violence against women is still rampant in our society. While there is a general perception that violence is greater, there is also a widespread concern among feminist activists that as with many human rights issues in Mexico, available data is insufficient to reflect the true scale and characteristics of violence against women. This is certainly the case with feminicide.
Mexico is one of a handful of countries in Latin American that have incorporated Feminicide into their legislation as a hate crime, first in local legislation in 1993, and later (until 2007) into federal law. In Mexico the government has opened data about feminicide at the municipal level from 2015 to the present, and the data is updated every two months. Nevertheless, the information is used only by data specialists.In order to help society to take advantage of the government's database on feminicide, Técnicas Rudas and Geochicas organized a workshop during Open Data Day, in which independent feminists and collectives came together to take a critical look at existing data visualization initiatives on feminicide – both from government and civil society -with a focus on cartography.
We made a script using R to read the feminicide data from official crime statistics, generate a database of feminicide in csv format, and produce a geographical file saved as geojson. Workshop participants included independent activists and academics, and members of  five different collectives, as well as  one international
organization.
The results of the workshop can be viewed at https://geamatica.me, the script is available in https://gitlab.com/anamhoo/feminicidio and a graphic view at https://umap.openstreetmap.co/en/map/feminicidio_mexico_2029#7/20.339/-98.240.
Open Data Day is the annual global celebration of open data. Each year, groups from around the world organise local events to celebrate, promote and spread the use of open data in their communities. It is an opportunity to show the benefits of open data and encourage the adoption of open data policies in government, business and civil society.
Email opendataday@okfn.org to contact the Open Data Day team.