On Saturday 7th March 2020, the tenth Open Data Day took place with people around the world organising over 300 events to celebrate, promote and spread the use of open data. Thanks to generous support from key funders, the Open Knowledge Foundation was able to support the running of more than 60 of these events via our mini-grants scheme. 
This blogpost is a report from the Department of Agriculture at the Asuogyaman District Assembly in Ghana who received funding from Resource Watch to host local farming organisations to create awareness on the need for data to be open and to show the effect of climate change on agriculture and related livelihoods using rainfall data.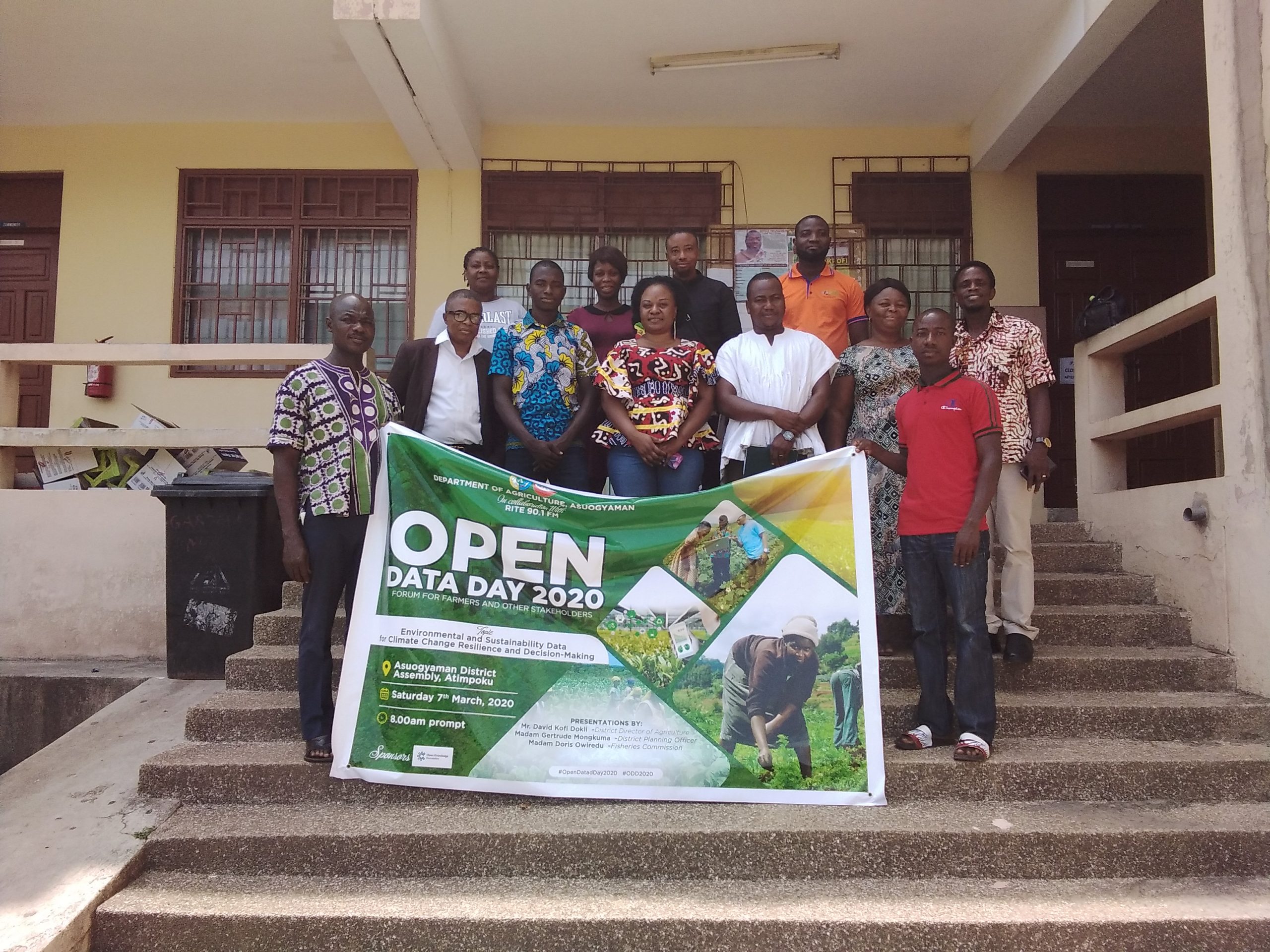 Open Data Day 2020 was marked in Atimpoku, Ghana on Saturday 7th March 2020 at the Assembly Hall of the Asuogyaman District Assembly.
Organised by the Department of Agriculture in collaboration with Rite 90.1 FM and other stakeholders, there were four presentations under a thematic area of environmental data. The event to commemorate the day started at 9am with a presentation by David Dokli, the district director of agriculture, who threw more light on the significance of open data and the day as a whole. His presentation continued on monthly rainfall data of Asuogyaman District from two locations of Akosombo and Boso for 2018 and 2019, courtesy of the Ghana Meteorological Agency. The presentation elaborated on the impact of these rainfall data on agriculture and climate change and their relevance.
The second presentation was by Gertrude Mongkuma, the District Planning Officer for Asuogyaman, on the Emergency Preparedness Plan (EPP) of the Volta River Authority and other stakeholders in there is a dam break. 
Thirdly, Doris Owiiredu of the Fisheries Commission did a presentation on the impact of small scale fisheries on the environment and the type of data collected by her outfit. 
The final presentation was by Etornyo Agbeko PhD of the Water Research Institute of the Council for Scientific and Industrial Research, who led a discussion on climate change and the effects it will have on the water cycle. 
The event ended at 1pm with participants resolving to advocate for the need for data – especially on very important developmental issues – to be open. This event was sponsored by Open Knowledge Foundation through a mini-grant scheme. Open Data Day is celebrated throughout the world annually and this is the tenth in series.
Open Data Day is the annual global celebration of open data. Each year, groups from around the world organise local events to celebrate, promote and spread the use of open data in their communities. It is an opportunity to show the benefits of open data and encourage the adoption of open data policies in government, business and civil society.
Email opendataday@okfn.org to contact the Open Data Day team.