On Saturday 7th March 2020, the tenth Open Data Day took place with people around the world organising over 300 events to celebrate, promote and spread the use of open data. Thanks to generous support from key funders, the Open Knowledge Foundation was able to support the running of more than 60 of these events via our mini-grants scheme. 
This blogpost is a report by Dr Philip Ifejika from the National Institute for Freshwater Fisheries Research in Nigeria who received funding from the Foreign and Commonwealth Office to develop an event to sensitise agricultural stakeholders on the need and benefits of data for equal development.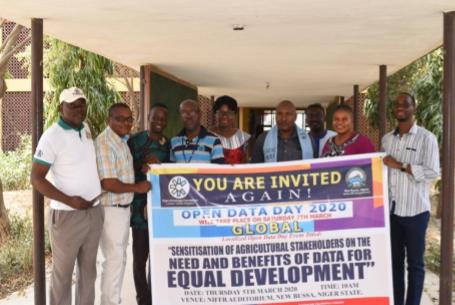 Our Open Data Day 2020 event on "Sensitisation of Agricultural Stakeholders on the Need and Benefits of Data for Equal Development" got wide publicity in the social media like Facebook, LinkedIn, and WhatsApp groups which was hosted in National Institute for Freshwater Fisheries Research (NIFFR), New Bussa, Niger State Nigeria.
The event attracted interest and commendations from individuals and groups from different states of Nigeria namely; Niger, Anambra, Abuja, Benue, Enugu, and Rivers as well as African countries like Zambia, Uganda, Zimbabwe, South Africa, Sudan, Ghana, Mozambique and Tanzania mostly from members of Alumini Group-Farm Management Online Course including GODAN Discussion group.
The colourful event was declared open by Dr Mbagwu, I.G. Director of Research Operations, in the presence of NIFFR management staff and was well attended by 135 participants comprising of 56% men and 44% women.
Stakeholders were educated and sensitised on ASFA Database, Fisheries Database Project and the Need and Benefits of Data for Equal Development.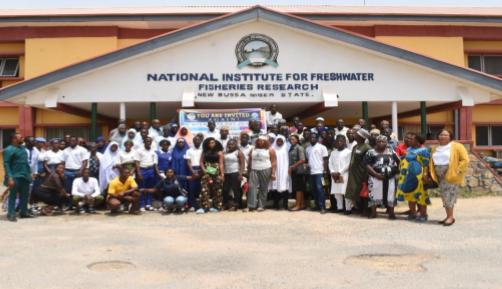 Promoting the ASFA Database, the Head of Library, Information and Documentation, Mrs V.A.K. Sado, shared NIFFR's experience since 2003. Unfortunately ASFA has restrictions and is not available freely as open data.
Dr, Mbagwu, I.G. Director of Research Operations, then gave an update on the Fisheries Database project which was inconclusive due to poor funding and the inconsistence of government. According to him, the project was designed to cover the fisheries and inland water bodies' data of the entire country.
For the main business of the day, Dr Philip Ifejika, the ODD programme implementer, provided more insights on Open Data Day, the Open Knowledge Foundation and the Data for Equal Development movement.
Dr Ifejika highlighted the benefits of open data to farmers, groups and organisations as well as its application at farm and organisation levels to develop business model and participate in data-driven agriculture. On data for equal development, he demonstrated link between equity and equality, need for gender empowerment and data aggregation.
Participants expressed delight with the new knowledge as well as expressing readiness to be open on data sharing, participate in database development and join more training to reap in the benefit of data economy, equity and equality in development.