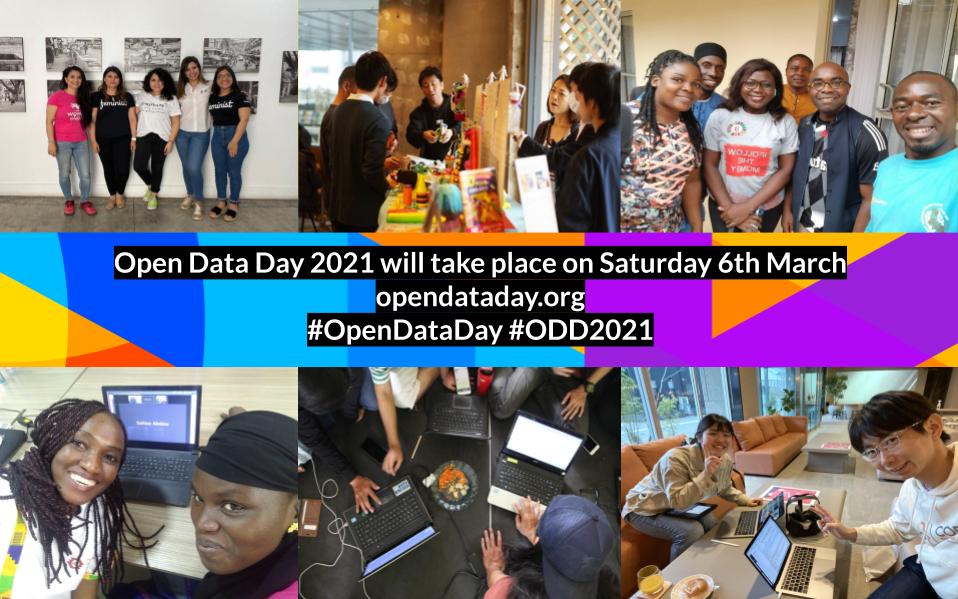 For Open Data Day 2021 on Saturday 6th March, the Open Knowledge Foundation is offering support and funding for in-person and online events anywhere in the world via our mini-grant scheme.
Open Data Day normally sees thousands of people getting together at hundreds of events all over the world to celebrate and use open data in their communities but this year has not been a normal year.
With many countries still under lockdown or restricted conditions due to the Covid-19 pandemic, we recognise that many people will need to celebrate Open Data Day by hosting online events rather than getting together for in-person gatherings.
To support the running of events, anyone can apply to our mini-grant scheme to receive $300 USD towards the running of your Open Data Day event whether it takes place in-person or online. Applications must be submitted before 12pm GMT on Friday 5th February 2021 by filling out this form.
If you're applying for a mini-grant for an online event, we will accept applications where the funds are allocated to cover any of the following costs:
Fees for

online tools

needed to help with the running of your event

Essential

equipment

needed to help with the running of your event

Reimbursing speakers or participants for

mobile data costs

incurred during event

Paying for the

printing and posting

of physical materials to event participants

Other costs associated with running the event
It might feel challenging to plan a great online event if you are used to running events in the real world. But many people and organisations have overcome these challenges this year, and there are many tools that can help you plan your event. Here are some tips and tools that we use for remote events that we think will help with your preparations.
Open Knowledge Foundation is a remote working organisation with our team spread around the world. We use Zoom, Google Meet or Slack to host our internal and external video meetings and rely on Google Docs, Github, Gitter and Discourse to allow us to share documents and talk in real-time. Many of these tools are free and easy to set up. 
Two members of our team are also on the organisation team of csv,conf, an annual community conference for data makers which usually hosts several hundred people for a two-day event. For csv,conf,v5 in May 2020, the team decided to make their event online-only and it proved to be a great success thanks to lots of planning and the use of good online tools. Read this post – https://csvconf.com/2020/going-online – to learn more about how the team organised their first virtual conference including guidance about the pros and cons of using tools like Crowdcast, Zenodo, Zoom and Spatial Chat for public events. 
Other organisations – including the Center for Scientific Collaboration and Community Engagement and the Mozilla Festival team – have also shared their guidebooks and processes for planning virtual events. 
We hope some of these resources will help you in your planning. If you have any further questions relating to an Open Data Day 2021 mini-grant application, please email opendataday@okfn.org.
Stephen Abbott Pugh was content development manager for the Open Knowledge Foundation.