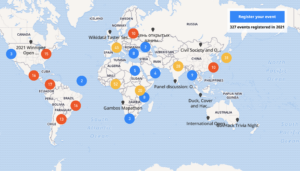 Open Data Day is a community event where everyone is invited to contribute. Each year over 300 groups organise activities around the world to show the benefits of open data and to encourage the adoption of open data policies in government, business and civil society.
As the stewards of Open Data Day, Open Knowledge Foundation is committed to ensuring that Open Data Day has the support it needs to thrive in a rapidly changing world.
This is why we recently asked you about your experience of Open Data Day. We wanted to learn what worked and what could be improved. You gave us lots of fantastic ideas – which we published here.
This is also why we decided to publish our 'Open Data Day 2021 Report'. This report describes (from our perspective) our stewardship of Open Data Day – what we did, who we worked with, and what happened. Please do download a copy of this report and share it with your contacts.
In the next stage of our stewardship plan, Open Knowledge Foundation plans hire an expert to help us engage with the whole Open Data Day community, to provide insights into the long-term impacts of Open Data Day, and to help us identify new ways to achieve them.

The world is changing rapidly, and like any organisation, we need to make plans to ensure our work remains relevant into the future and that the work of the Open Data Day community continues to achieve impact.

If you are interested in learning more about this opportunity – please email opendataday@okfn.org.
Learn more about Open Data Day here, and join the discussion here.
James is the Development Manager at Open Knowledge Foundation. James is passionate about developing innovative projects that deliver measurable positive impact in the world. Get in touch if you want to talk about your ideas ! @the_robot_james