On 8th March 2023, Women Environmental Programme (WEP) celebrated Open Data Day 2023 with the theme "Open AI for Environmental Conservation". The event was attended by staff and volunteers of WEP and open data enthusiasts that were both present in-person and online. The objective of the event was to teach participants how Open AI solutions are used to track environmental changes and help improve environmental management and conservation.
During the event, participants were exposed to and taught how to use some Open AI tools for tracking environmental changes and management. These tools included: Global Forest Watch, Climate Watch, Climate AI, Google Maps, and ChatGPT. Participants were given an explanation on how to use each of the Open AI tools to either monitor changes to the environment, carry out environmental research and contribute data to the tools, or search for important environmental information to make informed decisions. A total of 20 people participated in this event, 12 in-person and 8 virtually.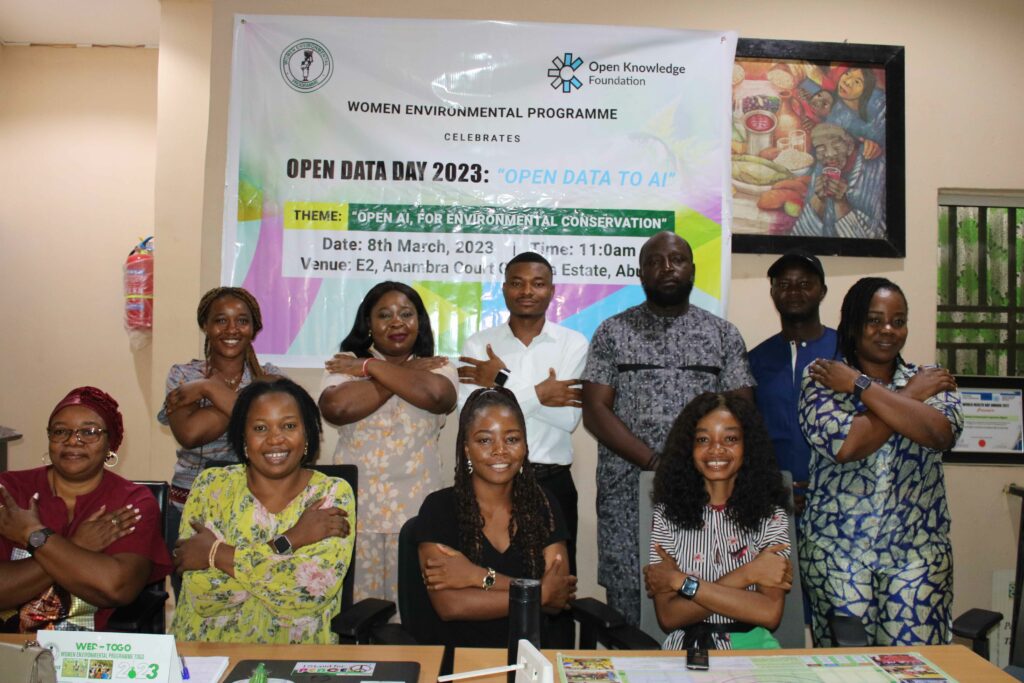 With the arrival and registration of the physical participants at the venue, the program was kicked off and was followed by an introduction from participants and welcome remarks from Mr. John Baaki, Deputy Executive Director of WEP. He welcomed and thanked the participants for joining the event and promised that the exercise will be educative and filled with opportunities. The event was moderated by the head of human resources, Ms. Patience Adema.
The welcome address was followed by a brief rundown of the history of the Women Environmental Programme and the scope of work by the head of the Monitoring and Evaluation department, Ms. Damaris Ujah. She gave a brief history of WEP and how it was founded, its scope of work, partnerships, memberships, and affiliations with the United Nations (UN). She stated that WEP is a non-governmental, non-profit, non-political, non-religious, and voluntary organisation formed in April 1997 by a group of women in Kaduna State. She also stated that WEP has the United Nations Economic and Social Council (ECOSOC) special status, Observer Status to the United Nations Environment Programme (UNEP) Governing Council/Global Ministerial Environment Forum, and United Nations Framework Convention on Climate Change (UNFCCC).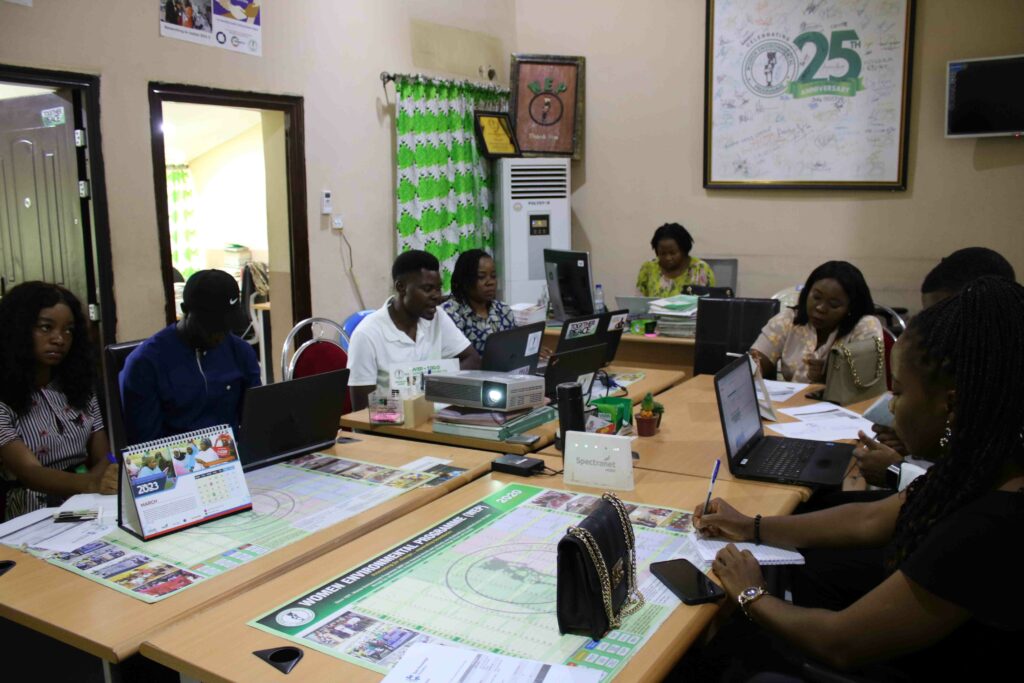 After a brief rundown, Mr. Sammy Joel made a presentation on the overview of the subject matter, and the descriptions of terms and concepts related to Open Data. He stated that Open Data is data that can be freely used, re-used, and redistributed by anyone – subject only, at most, to the requirement to attribute and share-alike. He also stated that open data is typically made available by governments, non-governmental organisations, and other public institutions, as well as by individuals and private companies. It can include a wide range of information, such as weather data, financial information, healthcare data, and more.
He stated that open data is the backbone of Artificial Intelligence (AI). He also shared how we can use Artificial Intelligence for Environmental Conservation and listed methods that can be used to achieve this particular goal.
Satellite and drone imagery: Satellites and drones can capture high-resolution images of the environment, which can be analysed using AI algorithms to monitor changes such as deforestation, land use, and wildlife habitats.
Machine learning algorithms: Machine learning algorithms can analyse large datasets and identify patterns, allowing conservationists to identify areas that require conservation efforts and track changes over time.
Computer vision and image recognition: Computer vision and image recognition technologies can be used to track wildlife populations, monitor poaching, and identify illegal activities in protected areas.
Natural language processing: Natural language processing can be used to analyse social media posts and news articles to identify potential environmental threats or illegal activities.
Climate models: AI can be used to create climate models that can predict the impact of climate change on the environment and identify potential solutions.
Environmental decision support systems: Environmental decision support systems can use AI to provide real-time recommendations for conservation efforts, such as where to focus patrols or which areas to prioritise for reforestation
He also exposed participants to some AI tools and demonstrated how they are used:
Global Forest Watch: It has an AI Forest Monitor and investigator. GFW has a web app that helps in data collection, monitoring, and analysis in real-time powered by open data.
Climate Watch: Offers open data, visualisations and analysis to help policymakers, researchers and other stakeholders gather insights on countries' climate progress.
Climate AI: Turn climate risk into a competitive advantage, by aiming for zero loss of lives, livelihoods, and nature.
ChatGPT: An artificial intelligence chatbot developed by Open AI and has been fine-tuned using both supervised and reinforcement learning techniques.
The event brought a lot of learning for the participants and WEP. We learned how there are a variety of tools that can be used in environmental monitoring and research. We learned that the usefulness of these tools needs more time to be devoted to training practitioners on their uses.
Knowledge was gained by the participants during the event on using open AI tools for the first time. This will help participants in their different endeavours but particularly in the field of environmental management.
---
Women Environmental Program (WEP) received a small grant to host Open Data Day(s) (ODD) events and activities.