For the Open Data Day 2023 celebration Grafoscopio Community organised "Data Week: De los datos comunitarios a los chatbots" which was attended by the librarians, musicians, activists, academics, data analysts, and other participants of the Grafoscopio Community in the HackBo hackerspace in Bogotá, Colombia.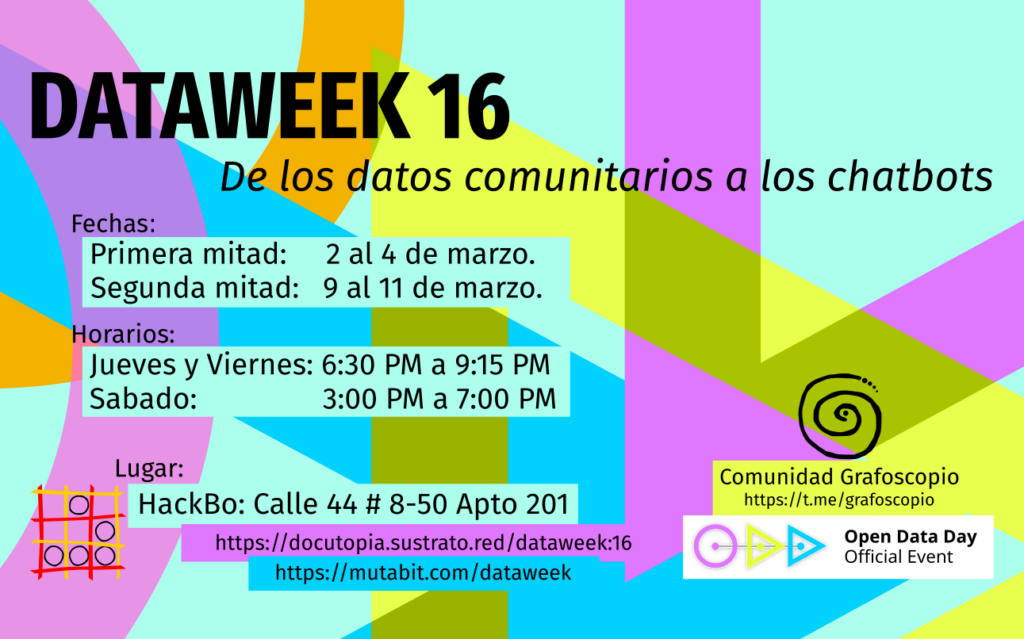 The event started with the introduction of participants, event, and hackerspace; then we discuss artificial intelligence from a critical perspective identifying it as "machine training". Later we review the principal concepts of the "Test of Turing" and the "Chinese room argument" from  John Searle, also quoting and recommending lectures like FAIR (Feminist AI Research Network) and the AI Decolonial Manifesto.
After that, we introduce our tech stack, concepts, and practices like:
Pocket infrastructures  
Moldable tools  
Interstitial programming  
Live-coding  
Data narratives  
Performative and community writing/editing/publishing.
With technologies like Pharo, Gtoolkit, Lepiter, MiniDocs, Fossil, Chisel App, Tiddly Wiki, Mark deep, and HedgeDoc. We build personal repositories and share online data narratives with the practices and technologies introduced and demo a minimal implementation of a bot in telegram hosted on a personal laptop.
After that, we explore metadata provided by photos taken with the ProofMode mobile app to explore the possibilities of building a model for geolocalisation data in connection with previous workshops focused on pocket infrastructures for grassroots community maps and bots. And finally, we share the memories of Data Week with the network of communities related to the Grafoscopio group.
The HedgeDoc pads: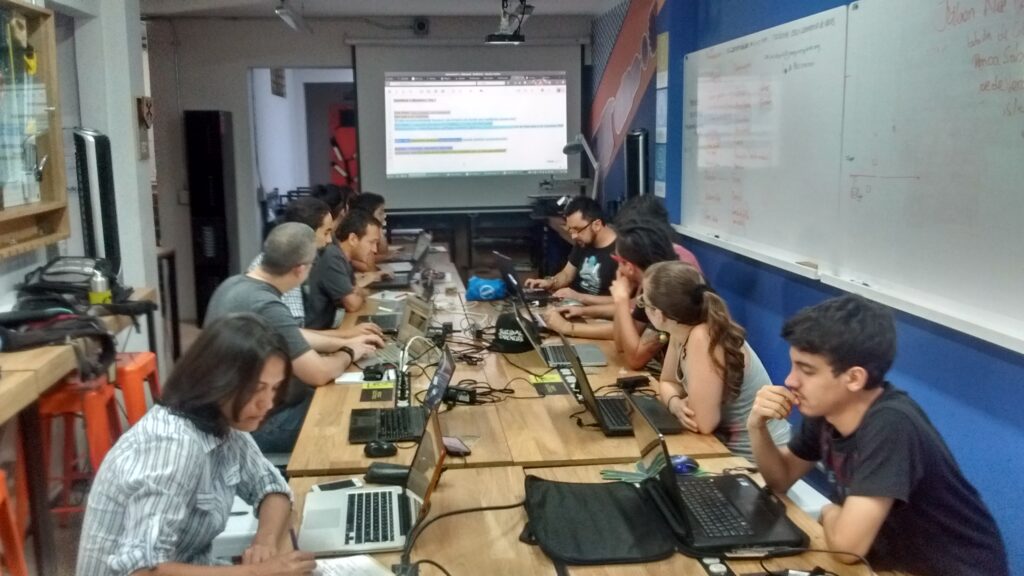 The overall feedback from the event was focused on the welcoming and fraternal space and workshop allowing diverse backgrounds to learn, share and connect in a safe and relaxed space.
The importance of supporting and funding the efforts of the Grafoscopio community and the HackBo hackerspace in building grassroots digital tools and self-learning material for peer-to-peer or community-to-community sharing open data, information, and critical views of grassroots local issues.
---
Grafoscopio Community received a small grant to host Open Data Day(s) (ODD) events and activities.