Every day, at the Open Knowledge Foundation, we craft technologies, standards, policies and practices to advance our digital commons and provide communities with more pieces to strengthen open Digital Public Infrastructures.
As advocates for openness as a design principle, we are thrilled to introduce the initial version of the Open Data Editor (beta) today. We hope the Open Data Editor will become in the future, with the feedback and contributions of interested developers and a broader community, a no-code, easy-to-use application to explore and publish all kinds of data: datasets, tables, charts, maps, stories, and more. A forever free and open source project powered by open standards and generative AI.
This is a beta release for early adopters. We are looking for feedback and help in testing the application and showing all the potential this tool offers.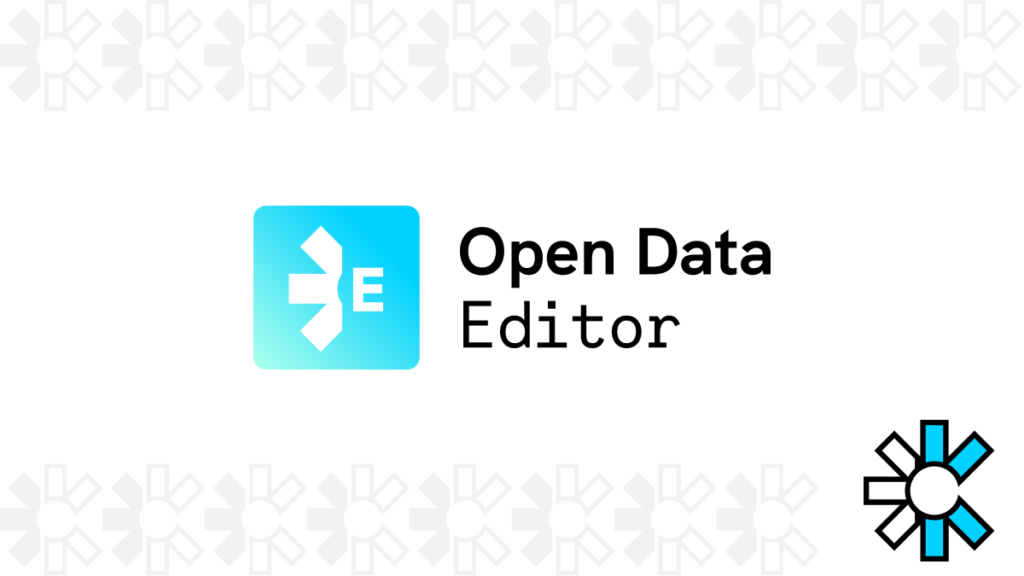 Fostering Openness by Design
If someone who works with data is not able to try and use data to add value to their work, the conversations around data ownership, access, and sharing are abstract.
The goal of Open Data Editor (beta) is to make it easier to manage and publish data. Public officers, journalists, and gender, social and environmental justice activists, currently lack a tool enabling them to publish data, without requiring sophisticated equipment, connectivity or programming skills.
That's why Open Data Editor (beta) isn't just another software tool; it's a catalyst for change, designed with a purpose—to foster openness by design, in communities, organisations, governments, and scientific communities. It's not just about efficiency; it's about empowering individuals and communities to access, understand, and share data for the common good.
Key Attributes:
Open Data at Your Fingertips: Open Data Editor (beta) puts open data front and centre, making it easy for scientific communities and researchers to access, analyse, and share data. It empowers organisations and individuals to open their datasets for public access, enhancing transparency and trust.
Open Data with No Code: Non-coders are now capable of organising their data according to Frictionless standards and use the main Frictionless functionalities (validation, extraction, description, transformation) without having to write one single line of code.
Data Reproducibility: Promote data transparency and reproducibility in scientific research (and in any type of data workflow) by simplifying the process of publishing data in open formats, reusing data and collaborating.
Data for Scientific Advancement: Open Data Editor (beta) is a powerful tool for advancing scientific knowledge. Use it to visualise, analyse, and share data to fuel discoveries, innovation, and collaboration across scientific disciplines.
Easy Data Sharing: Share research data easily and securely, as the application supports various data formats, ensuring compatibility and accessibility.
The Open Data Editor Advantage
Open Data Editor (beta) is designed to overcome data friction, making it easier than ever to work with and exchange data. Whether you're a data scientist, a developer, a government agency, or a researcher, this powerful tool will streamline your data workflows and boost your productivity.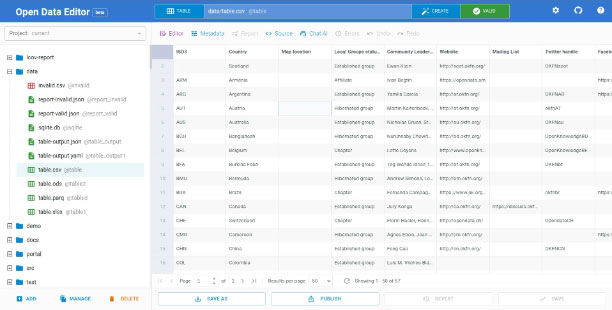 Key Features:
Intuitive Data Editing: Open Data Editor (beta) provides a user-friendly, spreadsheet-like interface that allows you to view, edit, and validate your data effortlessly.
Data Transformation: Easily transform your data from one format to another with a wide range of supported data formats, including CSV, Excel, JSON, and more.
Data Validation: Ensure data quality and consistency with built-in validation checks that generate a visual validation report, making it super easy for you to clean your data.
Schema Management: Define and manage data schemas to ensure data consistency and compliance with standards.
Data Publishing: Seamlessly publish your data to the web or data portals. It is easy to publish the processed data to CKAN, Github and Zenodo with a single button click, making it accessible to a wider audience and increasing its impact.
Generative AI: Optionally add a generative AI provider to unlock many features based on chat-based language models. The feature is currently limited to OpenAI, but more providers will be added soon.
Powered by Frictionless Data
Open Data Editor (beta) is a product of the Open Knowledge Foundation, a global non-profit organisation committed to advancing openness as a design principle. It builds upon the foundations laid by the Frictionless Data project, which has been at the forefront of data interoperability and open data standards.
Frictionless Data has long been recognised for its dedication to simplifying data workflows through its data specifications, software, and tools. The Open Data Editor (beta) is a natural extension of this mission, providing an all-in-one solution for data management, validation, and sharing.
Get Started with Open Data Editor (beta)
Whether you're a data professional looking to improve your data management processes or an organisation striving to maximise the value of your data assets, the Open Data Editor (beta) is here to help.
Visit our website at https://opendataeditor.okfn.org/ to download the application for your platform. Open Data Editor is available on all major platforms: Linux, MacOS, and Windows.
In the documentation, you can find a comparison with other similar tools and understand how Open Data Editor (beta) can fill a very big gap in the data processing tools space.
Join the Community
Open Data Editor (beta) is a step towards more open, transparent, and collaborative knowledge. Join us in our mission to foster openness by design, empower communities, and drive new discoveries through accessible and comprehensible data. Together, we can advance the frontiers of knowledge and create a brighter future for scientific research, government data and ethical innovation.
This is a beta release that requires more future work. We want to encourage organisations, developers and users to test it. We are also inviting UX designers and developers to help finalise it or take the code and customise it to serve specific communities. Get in touch with us at https://github.com/okfn/opendataeditor/issues.
You can learn more about Open Data Editor and join the Frictionless Data community at the following channels: