###The foundations of the Foundation
[**The Open Knowledge Definition**](http://opendefinition.org/) (OKD) was one of the Open Knowledge Foundation's very first projects: drafted in [2005](http://blog.okfn.org/2005/10/19/open-knowledge-definition-released/), 1.0 in [2006](http://blog.okfn.org/2006/09/06/version-10-of-the-open-knowledge-definition-released/). By stipulating **what Open *means***, the OKD has been **foundational** to the OKF's work, as illustrated by this several-years-old diagram of the Open Knowledge "stack".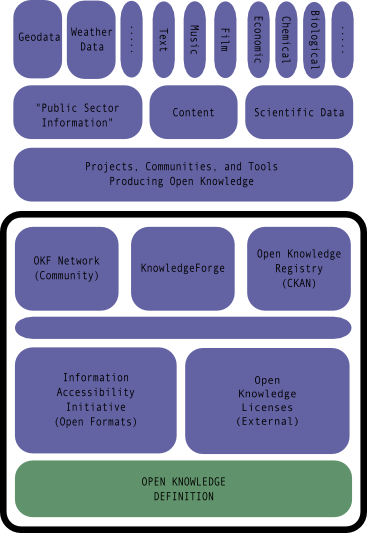 Knowing your foundations seems a must in any field, but even more so in an explosively growing and cross-disciplinary one. The OKD has kept the OKF itself on-track, as it has started and facilitated dozens of projects over the last years.
Burgeoning movements for open access, culture, data, education, government, and more have also benefited from a shared understanding of Open in face of "openwashing" on one hand, and lack of understanding on another. In either case, when works and projects claimed or intended as Open are actually closed, society loses: **closed doesn't create an interoperable commons**.
A selection of OKF blog posts from the past few years illustrates how the OKD plays a low-profile but essential role in setting the standard for Open in a variety of fields:
* [Is Open Access Open?](http://blog.okfn.org/2012/10/26/is-open-access-open/)
* [What "open data" means – and what it doesn't](http://blog.okfn.org/2010/12/10/what-%E2%80%9Copen-data%E2%80%9D-means-%E2%80%93-and-what-it-doesn%E2%80%99t/)
* [Open Licenses vs Public Licenses](http://blog.okfn.org/2010/10/15/open-licenses-vs-public-licenses/)
* [A free software model for open knowledge](http://blog.okfn.org/2010/03/17/a-free-software-model-for-open-knowledge/)
* [Open licensing for philanthropic foundations – "Why not?"](http://blog.okfn.org/2009/09/01/open-licensing-for-philanthropic-foundations-why-not/)
###Recent developments
In [2008](http://blog.okfn.org/2008/02/15/open-definition-advisory-council-launched/)
an [Advisory Council](http://opendefinition.org/advisory-council/) was inaugurated to steward the OKD and related defintions. I [joined](http://blog.okfn.org/2008/08/04/mike-linksvayer-of-creative-commons-joins-open-definition-advisory-council/) the council later in 2008, and recently agreed to serve as its chair for a year.
Since then we've discussed and provided feedback on intended-open licenses, in particular an [Open Government License Canada proposal](http://opendefinition.org/2013/01/31/ogl-canada-proposal-feedback/), iterated on an ongoing discussion about refinements needed in the next version of the OKD, and made our processes for approving licenses – as well as new council members – slightly more rigorous.
We've also taken the crucial step of adding new council members with deep expertise in Public Sector Information/Open Government Data, where we expect much of the "action" in Open and intended-open licenses in the next years to be. I'm very happy to welcome:
* Baden Appleyard, National Programme Director at AusGOAL
* Tariq Khokhar, Open Data Evangelist at the World Bank
* Herb Lainchbury, Citizen, Developer and Founder of OpenDataBC.ca
* Federico Morando, Managing Director at the Nexa Center
* Andrew Stott, Former Director for Transparency and Digital Engagement and Co-Chair of the Open Government Data Working Group at the Open Knowledge Foundation.
While many of them will be well known to many of our readers, you may find their brief bios and websites on the [Advisory Council](http://opendefinition.org/advisory-council/) page.
It is also time to thank three former council members for their service in years past:
* Paul Jacobson
* Rob Styles
* John Wilbanks
Open movements will continue to grow rapidly (unless we fail miserably). You can help ensure we succeed splendidly! We could always use more help reviewing and providing feedback on licenses, but there are also roles for designers, programmers, translators, writers, and people committed to sound open strategy. **See a recent [get involved](http://opendefinition.org/2012/12/17/open-definition-forges-ahead-get-involved/) update for more.**
Most of all, make sure your open access / culture / education / government / science project is truly open — [OpenDefinition.org](http://opendefinition.org) is a good place for you and your colleagues to start!