The following guest post is by Matt
Rosenberg, founder and editor of Public Data Ferret, a project of the non-profit Public Eye Northwest. In this special in-depth report, Matt looks at what it will take for the efforts of the recently formed global Open Government Partnership to succeed, taking in initiatives from across the globe and addressing their context-specific challenges and potentials.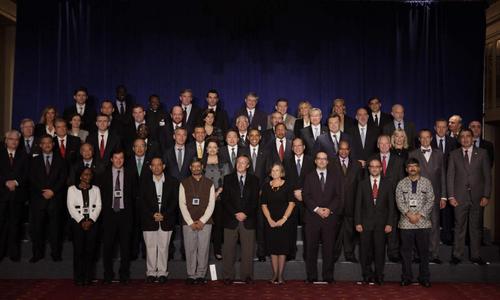 U.S. president Barack Obama recently joined with other global leaders to formally unveil the Open Government
Partnership as the United Nations met in New York City. Funding for the partnership
so far is $733,500 from the Transparency and Accountability Initiative, $350,000 from
Google and in-kind contributions from the U.S. government, World Bank Institute
and others. The eight charter members have already formalized their commitment to
the core
principles of disclosure, engagement, integrity, innovation and accountability.
The eight are the Year One co-leaders the U.S. and Brazil, plus Indonesia, Mexico,
Norway, the Phillippines, South Africa and the United Kingdom. Another 38 countries are committed to
joining, many from eastern and northern Europe but also seven from South and
Central America, four from Africa and three from the Middle East. An important step in
the partnership's agenda will come at a March 2012 Brazil meeting with the presentation
by each new member of an open government plan of their own, against which future
actions can be measured.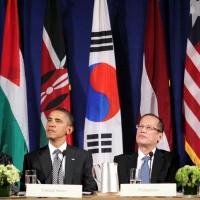 The New York event gave rise to the expected lofty statements. In a speech, Philippines President Benigno S. Acquino III,
remarked: "This is what democracy is all about: having a government disciplined
enough to imbibe in itself the principles of transparency, accountability, and citizen
involvement—the necessary preconditions to poverty alleviation and inclusive and
sustainable economic growth."
Who could be against imbibing that? But in an open society the media don't always
parrot the party line. Only the day prior, news reporters had chastised the White House in
print for an advance briefing on the Open Government Partnership by State Department
officials who insisted on being described only as "Senior Administration Official 1" and "Senior
Administration Official 2". Standard operating procedure in most high-level
briefings, true. But, implied the reaction – from the Associated
Press, Tech President, and Politico, to name a few – rather discordant for a big "transparency" initiative. It wasn't the first
time in recent months that the gap between words and deeds on U.S. open government
efforts had drawn notice.
The day after the partnership's formal unveiling, J. Nicholas Hoover of Information
Week wrote:
…the Obama administration's commitment to open government hasn't
always lived up to its rhetoric. For example, the White House has aggressively pursued
whistleblowers and leakers of information, and in court cases has regularly used the
defense that certain data must be shielded from the public as state secrets. (A March
2011) event recognizing Obama for a commitment to open government was ironically closed to the press…Congress' record in
recent years has also been mixed. For example, while the websites of congressional
committees now nearly universally stream congressional hearings, Congress has slashed
a key source of funding for transparency efforts. Federal court records are also difficult
to access online, and are often available only behind a paywall. The new National Action
Plan and international partnership on open government are positive additional steps
pointing toward increased transparency, but will ultimately be judged by their execution,
and not the initial plans.
Exactly right. Success for OGP will begin with helping member nations understand how
to best harness the passion and capacity of disparate ground-level actors – particularly
NGOs, local governments, journalists, students, engaged citizens, artists and social
media users. To complement important data they already have on the communications
and personal technology preferences of constituents, OGP nations should commission
independent surveys on how the civic landscapes in their respective nations are perceived
at home.
This qualitative harvesting must be incisive and unflinching because real conditions on
the ground greatly shape implementation of open government. Earlier this year I led a
conversation on transparency with mid-career government officials from Yemen, Tunisia,
Guineau, Djibouti, India, Pakistan, Trinidad and Tobago, Lithuania and South Korea,
who were among the enrollees in a year-long program as Hubert H. Humphrey Fellows
at the University of Washington's Evans School
of Public Affairs, in Seattle. The dominant concern of the group was how to develop
a flexible model for building open government systems, keeping in mind widely varying
socio-political environments in different nations. Participants identified some of the big
questions that need to guide any open government visioning at national scale. These fell
into two broad areas.
1) Political culture. Are political corruption and cronyism an animating concern? How is
the national government experienced, on the whole, by the populace? As an authoritative
patriarch which discourages close scrutiny? As despotic and dangerous, or unstable?
As a work in progress, or in the best case as genuinely transparent, strategic and
collaborative? Do the principles of universal human rights have purchase, and is there
true freedom of the press or not?
2) Education, economy and technology. What is the state of education in the country –
do scientific and secular views hold sway or not? Are higher ed and institutional R&D
in a healthy state, and is there a burgeoning community of public-spirited software
developers? Is the economy open or state-run? What are the particulars of technology
adoption and access across class lines?
The answers will help guide whether an open government planning process can even be
credibly launched in a given nation, and how; or whether it may be wiser to take a more
incremental approach.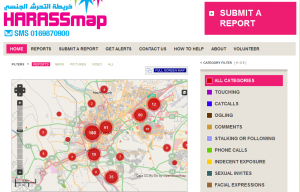 Egypt, for instance, could hardly be expected to commit now to a formal national plan
for open government nor is it yet part of OGP. But as the country sorts out its post-Mubarak political future it's already evident
that crowd-sourced data, literally from the street, are being used to push for social
and government reforms. Women in Cairo are using a site called Harass Map, built on the open-source platform Ushahidi, to
document widespread and traditionally tolerated sexual harassment. Reports can be
texted, e-mailed or tweeted, to be integrated into the growing and mapped compendium
of uncivil behavior. Categories include rape-sexual assault, indecent exposure, stalking or
following, touching, sexual invites, phone calls, comments, catcalls, and ogling.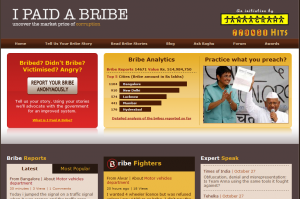 In India, where government corruption is still considered a notorious scourge, any
state-stamped transparency scheme would be met with skepticism. Yet that hasn't
prevented a vibrant community of reformers from adapting new tools to an old concern.
The transparency site ipaidabribe.com collects
firsthand reports on the intimidation by government officials of businesses and citizens
through informally-mandated payoffs, and offers related data analytics. It was created
by Janaagraha, a
Bangalore-based non-profit focused on quality of life and citizenship in urban India.
In the Central Gondwana region of India, tribal members report on and learn about
problems that citizens encounter with government, through a mobile phone voice portal
called CGNet Swara. It has a Web
hub and journalists to vet and edit reports. The service's impacts include seeding mainstream overage and sometimes
corrective action on problems with worker compensation, food security, public safety and
resource extraction. Recognizing the vital role of local intelligence, CGNet Swara has
branched into training citizen journalists.


India's Association for Democratic Reforms,
or ADR, is a pioneering open government group in the country, which has successfully
won the right for voters to know the financial, criminal and educational backgrounds of
candidates for office. In a country where reformers sadly note that many candidates are
criminals, this matters. The information is made available via Short Message Service on
mobile phones. ADR also monitors courts and elections, provides counsel to officials on
best practices, and reports on a wide range of transparency and corruption issues.
India has not yet committed to join the Open Government Partnership, but as the old
saying goes: if the people will lead, then perhaps the leaders will follow.
Which isn't to say leadership from officialdom can't become transformative. One recent national data initiative has attracted
broad notice in "open" circles but it will take time to gauge its social utility. It was
launched this summer by the Kenyan government, which will be joining the Open
Government Partnership. The Kenyan open data portal covers a wide range of economic,
government spending, health, education and other topics and pointedly emphasizes
opportunities to drill-down to the state, regional and local level. There are maps and
fact sheets, charts and tables and raw data for developers to create new apps. Community apps developed
from initiative data so far include tools to scrutinize energy use and progress on
Community Development Fund and World Bank projects, and to map and categorize
constituent service needs. An especially useful mash-up is BOOST, which presents annual spending in the provinces side-by-side
with demographic, poverty and public health indicators such as percent of households
with dirt floors, or connections to the main sewer line; and percent of population that has
never attended school, or is of pre-primary age.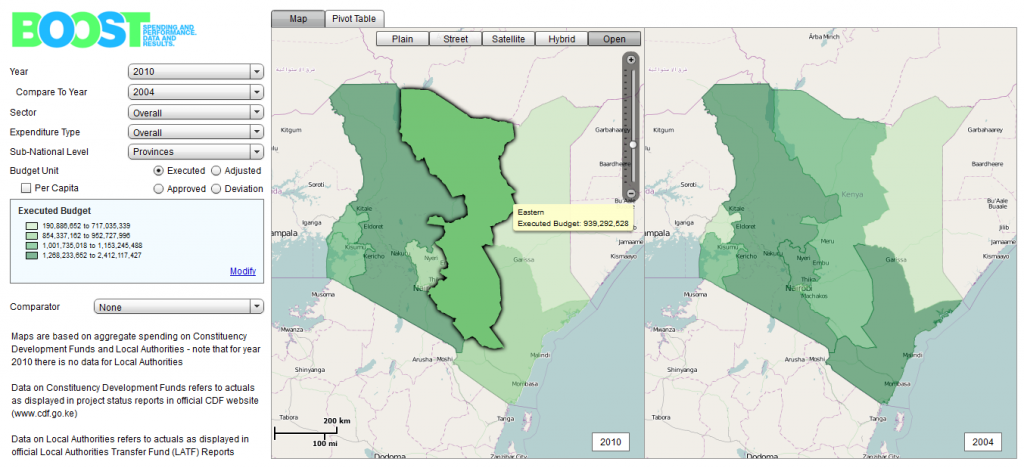 While young, Kenya's initiative shows how trust and collaboration might grow
through open data, although that is just one aspect of the transparency agenda. In
contrast, Ukraine, another of the 38 nations joining OGP, is trying to get to first base,
by establishing rules of law and building civil society, as I learned when I met
with a Ukraine delegation visiting Seattle earlier this year through the U.S. State
Department's International Visitor Leadership Program and The World Affairs Council – Seattle.
The visitors included representatives of Ukraine NGOs working, variously, to provide
legal aid to citizens in property disputes with government; to strengthen the climate for
small and medium-sized business by modernizing the tax code and fighting government
corruption; and to promote freedom of association and civil society organizations. Other
participants represented organizations working to fight media censorship, and to develop
civic capacity projects targeted to youth.
Knowing their animating concerns, and listening to their questions – which showed
keen interest in matters as granular as the posting online of local city council meeting
agendas before the meetings are held – I could begin to sense what a more genuinely open
government in Ukraine would need to look like.
But for the administration of President Victor F. Yanukovich to have any credibility
on open government, a major course correction is needed. As two former U.S.
ambassadors to Ukraine observed last March, the nation's reputation for openness
is suffering because of a "corrupt, politically-driven judiciary" and state prosecutors
doing Yanukovich's political bidding. In October a
show trial conviction of his political rival and former Prime Minister Yulia V.Tymoshenko added to that perception, sparking vociferous protests and threatening the
nation's integration into the European Union. Even before the verdict, the case was being
read as, in the words of one expert on
European governance, "an extremely worrying sign that (Yanukovich) is moving to
exert a monopolistic control over politics."
The road to credibility for Ukraine is littered with larger boulders. Consider the
conditions described in Ukraine via Transparency
International's "Corruption Perceptions Index 2010" report issued this year. Ukraine
scored only 2.4 on a scale of 10, far more at the "highly corrupt" end of things than
the "very clean." Key concerns included: murkiness about the difference between
political and government workers; weak laws on conflict of interest for public workers;
lack of competition for high-level public sector jobs; poor legal rights for public servants
arbitrarily fired; law enforcement agencies and a judiciary which don't prosecute
corruption effectively; a lack of whistleblower protections for public employees; and
a lack of annual performance and accountability reports required of the legislature and
government agencies.
However, farther from Kiev are promising signs. Open government in Ukraine is building
from the grassroots up. Earlier this year, Albertville, Minnesota City Administrator
Larry Cruse was part of a local delegation of public officials
which visited counterparts in Boryspill,
Ukraine
in an exchange program intended to build skills and capacity around open
government. (A group from Boryspil
visited Minnesota
in late September.)
Cruse lived with a local family for a week and immersed himself in local governance.
Unlike like smaller and non-partisan municipal bodies in the U.S., the local council of
Boryspil had 48 members from 13 political parties. But Cruse observed that caucuses and
negotiations to form issue-specific coalitions helped provide order to the process, and that
open government in Boryspil had a strong face-to-face component. Cruse wrote:
A good portion of our time was spent in strategic planning sessions with
anywhere from 20 to 50 people representing elected officials, city staff and citizens of
Boryspil. Throughout the day, the large groups were broken up into small sub-groups
to discuss various topics, exchange ideas and then report their finding back to the larger
group for further discussions and consensus building. There were elected officials and
staff mixed together with members of the community at all the functions. The students
and community members were delighted and emotionally moved to be sharing their
thoughts and ideas alongside of the Mayor and other officials.
National governments seeking to become open should look not only to smart NGOs,
software developers, students and journalists, but to town councils, which generally tend to face more direct pressure for accountability on a daily basis in their communities.
Although varying conditions may dictate different strategies, the ultimate destination
is a common one. Any government that wants to call itself open must provide free and
accessible public information on taxation, draft and adopted budgets, and actual year-
end spending including contract awards. There should be full and open disclosure on
government bidding processes, job openings, salaries and benefits, court proceedings
and legislation prior to and after passage. Also vital are sharing of key data on
economic performance, public health conditions, and fair metrics of student and
teacher performance at public schools. A lynchpin of open government is a trustworthy
and transparent elections process including impartial and open adjudication of fraud
allegations.
A next layer of transparency would include wide promotion of census data, and adopted
laws which serve to daylight public records, lobbying, campaign contributions, and ethics
and accountability oversight in government.
Girding the whole disclosure framework should be government reports and data created
in machine-readable formats, and liberally posted online.
As OGP, its member nations and their domestic partners work to bring ambitious open
government plans to life, here are a few more things they should bear in mind.
Crowd-sourced sites which accent the need for government response also require a
formal and public adoption by government. Nobody wants to report into an abyss. "Open
311" sites which allow citizens to report and see resolution of cracked sidewalks, broken
streetlights, gaping potholes, broken park equipment can be a huge force for building
trust and engaging publics – if reports actually prompt action. To get to this point requires
real collaboration between site developers, officialdom, and constituents.
Most people aren't tech geeks, even in advanced economies. Although software
developers are crucial partners, keep the needs of everyday constituents foremost.
Throwing 400 government data sets online is not an open government policy. Track
what developers do, if much of anything, with all those data sets once posted. How many
actually get rendered into browser-friendly Web sites and easy mobile apps? How widely
are the sites and apps used? And make sure to look beyond the open data craze no matter
how well outcomes of data portals are tracked. As Nathaniel Heller of Global Integrity, an OGP partner,
blogs:
Instead of fetishizing open data portals for the sake of having open data
portals, I'd rather see governments incorporating open data as a way to address more
fundamental structural challenges around extractives (through maps and budget data),
the political process (through real-time disclosure of campaign contributions), or budget
priorities (through online publication of budget line-items).
Another thing: impenetrable gov-speak has got to go. Written government
communications including laws, regulations, audits, reports, contracts and more should
be in plain language only.
The trend toward more and more data visualizations, audio and video is good if it's
user-focused. Videos of full meetings of legislative or regulatory bodies need should
be indexed by main topics and include keyword-searchable transcripts. Prototypes are
already emerging.
Reveal and revile censorship and intimidation of media and activists, first
by highlighting the oversight work of organizations such as Reporters Without Borders, Human Rights Watch and Amnesty
International, and second, through vigorous state prosecution of those who seek to
censor, threaten or otherwise intimidate reporters and activists. Hello, Mexico?
Reflecting recommendations in a landmark report
issued by the U.S. Federal Communications Commission earlier this year, more
foundations and philanthropists should support independent non-profit media doing
valuable work on transparency, particularly "last mile delivery" of the fruits of open
government.
It's a time of challenge, and of possibility. Every major development right now on the
global political scene – including the financial meltdown in Greece, economic troubles
in the U.S., the wave of pro-liberty uprisings in the Arab world, even the little noticed efforts of locals and NGOs
to shepherd the tiny West African nation of Guineau-Bissau away from the despotic
rule of drug profiteer-kleptocrats – intersects closely with the need for open, honest and
accountable government. Because the need is so deep and broad, the Open Government
Partnership represents an important attempt to bring a multilateral and official hue to the
challenge.
But public officials who aspire to wring utility more than huzzahs out of open
government initiatives would do well to heed the musty adage, "dance with them
that brought you," popular among the old-time ward-heelers of New York, Boston,
Philadelphia and Chicago.
It's just that the partners and the venue for the dance look a whole lot different these days.
Theodora is press officer at the Open Knowledge Foundation, based in London. Get in touch via press@okfn.org