The following post is by Velichka Dimitrova, Coordinator of the Open Economics Working Group and Hristo Alajdov, Associate Professor at Institute of Biomedical Engineering at the Bulgarian Academy of Sciences.
One of the key problems in natural science research is the lack of effective collaboration. A lot of research is conducted by scientists from different disciplines, yet cross-discipline collaboration is rare. Even within a discipline, research is often duplicated, which wastes resources and valuable scientific potential. Furthermore, without a common framework and context, research that involves animal testing often becomes phenomenological and little or no general knowledge can be gained from it. The peer reviewed publishing process is also not very effective in stimulating scientific collaboration, mainly due to the loss of an underlying machine readable structure for the data and the duration of the process itself.
If research results were more effectively shared and re-used by a wider scientific community – including scientists with different disciplinary backgrounds – many of these problems could be addressed. We could hope to see a more efficient use of resources, an accelerated rate of academic publications, and, ultimately, a reduction in animal testing.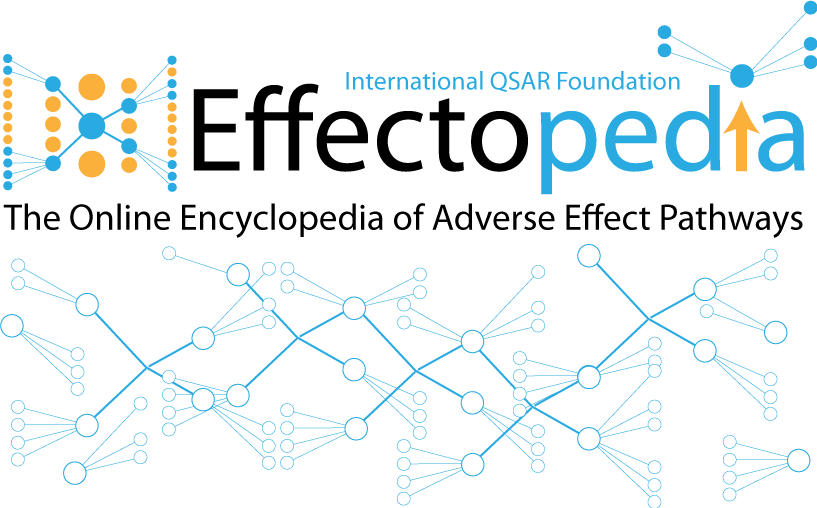 Effectopedia is a project of the International QSAR Foundation. Effectopedia itself is an open knowledge aggregation and collaboration tool that provides a means of describing adverse outcome pathways (AOPs)1 in an encyclopedic manner. Effectopedia defines internal organizational space which helps scientist with different backgrounds to know exactly where their knowledge belongs and aids them in identifying both the larger context of their research and the individual experts who might be actively interested in it. Using automated notifications when researchers create causal linkage between parts of the pathways, they can simultaneously create a valuable contact with a fellow researcher interested in the same topic who might have a different background or perspective towards the subject. Effectopedia allows creation of live scientific documents which are instantly open for focused discussions and feedback whilst giving credit to the original authors and reviewers involved. The review process is never closed and if new evidence arises it can be presented immediately, allowing the information in Effectopedia to remain current, while keeping track of its complete evolution.
How can this coordinate better scientific research?
The type of knowledge needed in Effectopedia requires a paradigm shift in the way research is conducted: from phenomenological to more hypothesis driven. Instead of testing an individual chemical with results often applicable only in the context of the specific experimental design, Effectopedia is targeted at defining the conditions under which certain knowledge can be transferred to other species, levels of biological organization, exposure routes, exposure durations, chemicals and so on. A key element to make this approach work is to provide a common framework where scientists with different backgrounds can contribute and encode their knowledge. Since adoption of a new multidisciplinary data representation format could be quite challenging, an ontology-enhanced natural language interface for encoding this knowledge is envisioned.
Entering the results of one's research in a machine-readable format could enable a sharing platform with a holistic concept, which could unite scientists from different academic backgrounds in a multidisciplinary research framework. The data format of chemical scientists, biologists and toxicologists may be different, but if there is a unified data format, there can be "a common language" in science. Additionally, this could serve as a platform for students in the natural sciences to download the datasets of previous research in order to learn about working with and analysing data.
How can this enable wider access to scientific research?
Many universities in the developing world and in transitional economies are not able to pay the full subscription fees to access published work, which keeps them out of the mainstream up-to-date scientific discussions. Other experienced scientists with a lot of relevant expertise who are either retired or no longer affiliated with an academic institutions may be able to contribute their knowledge in an open online encyclopaedia. Making this encyclopedia semantic would also allow the development of multi-lingual support, enabling academic exchange between scientists who don't even speak the same language.
How could this reduce animal testing?
The simplest way Effectopedia is envisioned to help in the reduction of unnecessary animal testing is by providing a centralized repository for open, easily searchable access to the existing knowledge. Effectopedia could also aid the design of alternative test methods by providing statistical information of what are the most used and needed tests. Once established, the adverse outcome pathways themselves could become an invaluable tool for discriminating when simple chemical or assay-based test can be used to predict whole animal effects for one or more species, eliminating the need for actual testing.
Much of the research which has already been done on cells and animals could be extrapolated to other species, as many have evolved in similar ways and therefore have similar functions. Therefore, cross-species extrapolation could reduce the need for further animal testing, as scientists could use information about research that has already been done.
I am interested. How can I get involved?
If you come from the chemical, pharmaceutical, flavoring, cosmetics or many other industries, the products your company creates are often subject to regulations. A system like Effectopedia could dramatically reduce the cost for development and registration of new products without compromising your competitive edge. The ability to store your data on your own in-house server in the same format as the public data allows you to mix them during the product research phase and then send them for registration using the same format. Without spending any additional resources you can also create a better public image by publishing information that no longer provides any competitive advantage or that you are required to publish by governmental policies. You can also reduce the cost of building your in-house knowledge management system by concentrating your efforts on the custom and company specific modules, while sharing the cost and resources of development of the common modules with all involved stake holders.
Large organizations like OECD, WHO and agencies like EPA had already expressed interest in the development of Effectopedia as a tool for development and documentation of adverse outcome pathways that meet the standards for regulatory acceptance. If you or your organization see the benefit of such system please contact us and see how you can help establish Effectopedia as a an open standard for representation of adverse outcome pathways.
If you are scientist you can help us to form the initial expert panels creating the guidelines for all future adverse outcome pathways contributions. Your feedback is also valuable to us in these beta stages of development so please fill free to contact us with any comments ideas and suggestions.
Contact: aladjov [at] qsari.org
---
The adverse outcome pathways (AOPs) describe the molecular interactions of a chemical with biological systems and the biological response models that document how molecular effects lead to adverse effects many levels of biological organization. ↩
Velichka is Project Coordinator of Open Economics at the Open Knowledge Foundation. She is based in London, a graduate of economics (Humboldt Universität zu Berlin) and environmental policy (University of Cambridge) and a fellow of the Heinrich Böll Foundation @vndimitrova