The following guest post is by Stef.
The European Parliament is one of the most notoriously impenetrable institutions that governs our lives. Shining a light into the murky corridors of Brussels and Strasbourg becomes increasingly vital as the reach of the Parliament grows. Opening up the EU to greater citizen scrutiny will help to improve understanding, participation, and democratic legitimary. Parltrack is one of a number of initiatives seeking to make different aspects of the European Union more digestible, in this case focussing on the legislative process.
Parltrack is a website that republishes detailed information of the European law-making process. It combines dossiers, MEPs, vote results and committee agendas into a unique database and allows the tracking of dossiers using email and RSS. Some of the data – like results of votes – comes from hard-to-process PDF documents. Recently two projects – the European Parliament's own AT4AM and the German bundesgit – showed the need to have access to the amendments to legislative proposals in an easier to use format.


Parltrack now offers this information. The newly added data allows Parltrack to display all the amendments a Member of the European Parliament (MEP) has made in the current parliamentiary term. Such a listing was unavailable to the public until now. Similarly new is the listing of all amendments for a certain law propsoal. Surprisingly, the new feature most warmly welcomed by Parltrack's users is the ability to send direct links to amendments. This not only allows more direct discussion of the text, but also tweeting.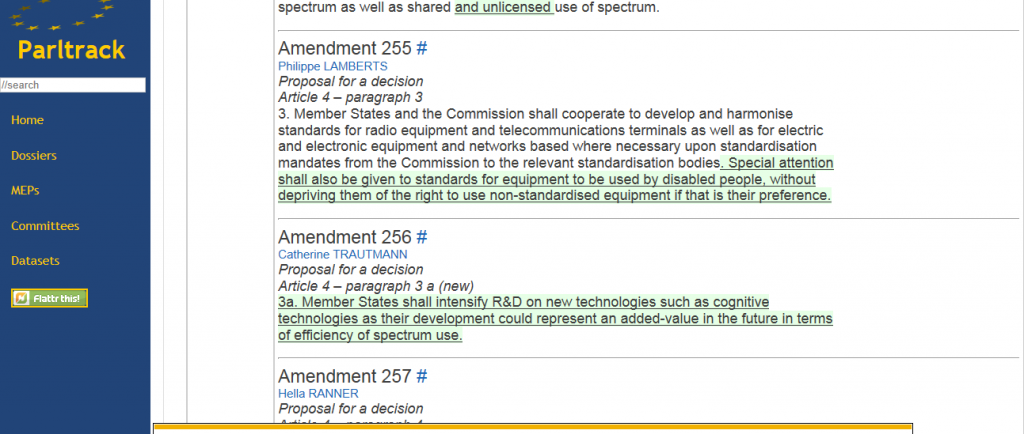 Parltrack also offers tracking of events concerning any legislative proposal. Users can sign up to get notifications if a proposal is scheduled on a committee, or if amendments are attached to it.
It's important to note that this data contains errors. Current estimates are around 1%, which come from the fact that the PDFs sometimes themselves contain spelling and formatting errors – in one case the English version contains French text. So this is an informational source – anything serious should be cross-checked with the source PDF which is always linked.
Parltrack currently contains 171612 amendments starting from 14th of July, 2009. Included in this are 976 amended dossiers, and 775 amending MEPs. Some more statistics on the data:
Top 3 most amending MEPS:
Olle SCHMIDT: 2038 amendments
Philippe LAMBERTS: 1974 amendments
Silvia-Adriana ŢICĂU: 1610 amendments
Top 3 dossiers with the most amendments:
3075: Structural instruments: common provisions for ERDF, ESF, Cohesion Fund, EAFRD and EMFF; general provisions applicable to ERDF, ESF and Cohesion Fund (2011/0276(COD))
2482: Common Fisheries Policy (2011/0195(COD))
2310: Public procurement (2011/0438(COD))
Come and check it out!