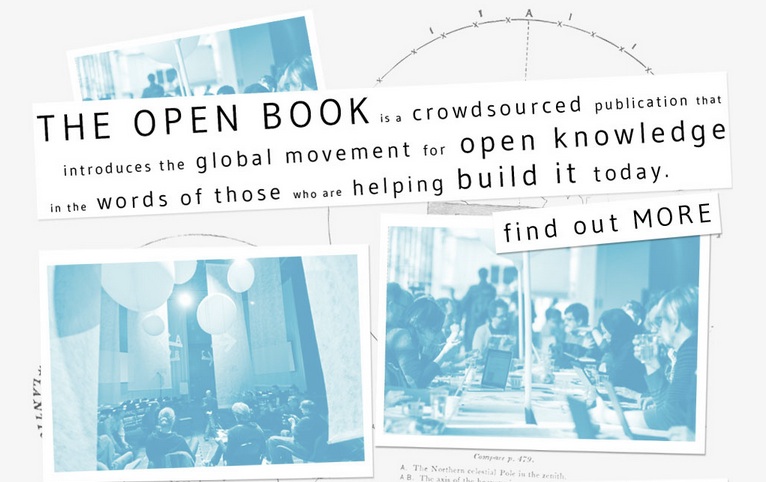 From makerspaces to data wrangling schools to archives, the digital is being remixed by the open – and it is changing society as we know it. New concepts about public information, transparency and the Commons are combining in unprecedented ways, resulting in a breadth of transformative collaborations. Nations across the globe seek formal understandings of how to open up government. What we all really mean by 'open', however, remains intriguingly vague.
The movement for open knowledge has been an attempt to start this conversation. In 2009, the Open Knowledge Foundation released the Open Definition for the first time, setting out principles to that defined "openness" in relation to data and content and aiming to ensure interoperability between different terms of open material. It has since been translated into over 20 languages and has inspired similar projects, such as the Open Design Definition we are building on Github to unite makers and hardware builders across paradigms. In 2011 the pioneering Data Driven Journalism Handbook was born at a 48 hour workshop at MozFest in London. Organisations like Creative Commons, Mozilla and the Free Software Foundation each have their own ways of interpreting 'openness' as seen in the continued debates surrounding non-restrictive CC license releases, Open Source versus Free Software methodologies and Open Web manifestos.
Despite these efforts, the question remains — what is so important about 'open'?
Enter The Open Book, an ambitious crowdsourced publication built jointly with our friends at The Finnish Institute in London as a part of the critical Reaktio series. Inspired by the world's first Open Knowledge Festival this fall in Helsinki, The Open Book explores the social and technological manifestations of this emergent movement for the first time, featuring over 25 in-depth thought pieces written by pioneers of openness around the world from London to São Paulo.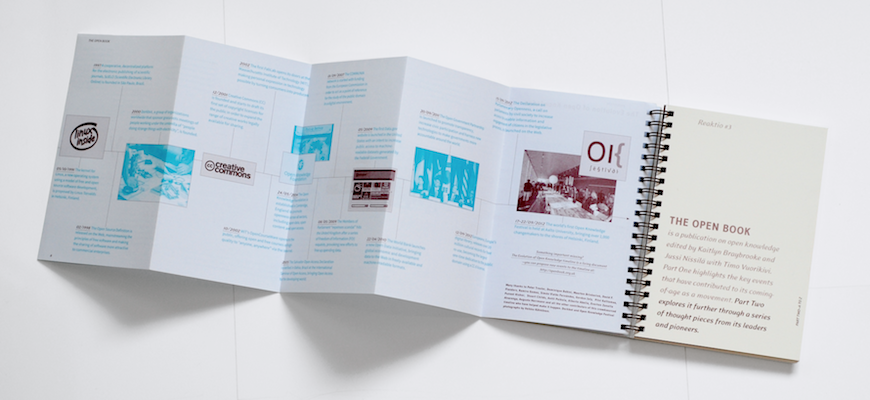 The group of contributors to The Open Book is a colourful one, including the Free Software Foundation's Karsten Gerloff, Open Data Manchester's Julian Tait, the Centre for Sustainable Communications' Jorge Luis Zapico, The Guardian's Simon Rogers, the Open Hardware Summit's Catarina Mota, IBM's Ville Peltola, Open Design Now's Peter Troxler, the Harvard Berkman Centre for Internet & Society's Mayo Fuster Morelli and the Open Knowledge Foundation's Rufus Pollock. Each piece explores a unique aspect of the open knowledge movement and how it has affected work, society and culture across paradigms, from government to business to design to education. Also included is "The Evolution of Open Knowledge", the world's first crowdsourced timeline of openness from 1425 to the current day which we asked you to contribute to earlier this year.
Due to the divisive nature of such an experimental publication, we do not attempt to present any single argument on what 'open' is. Instead, we hope The Open Book will serve as a platform for discussion and a launching pad for new ideas about the future of a global open knowledge movement in a time of rapid technological progress.
Through the process of building this publication, we've learned a few important things — first, the term 'open' is not a panacea in itself, and second that we certainly differ on the specifics of what it should be. We've also learned that despite our differences, this movement nevertheless finds commonalities in the shared belief that transparency is key to good governance, inclusivity in public participation and strong civil societies. We humbly thank those of you who sent us contributions, argued with us, shared your ideas and helped us understand the open knowledge movement through your words. It's been a deeply enriching process for all of us on the editorial team.
Lastly, we are happy to announce that The Open Book will be launched in Manchester this Friday, March 22nd at the FutureEverything Conference. Everyone is welcome to attend; browse the flyer below for details about time and location. We hope to see you there, and look forward to the many discussions (and lively debates!) yet to come as a result of this wonderful project!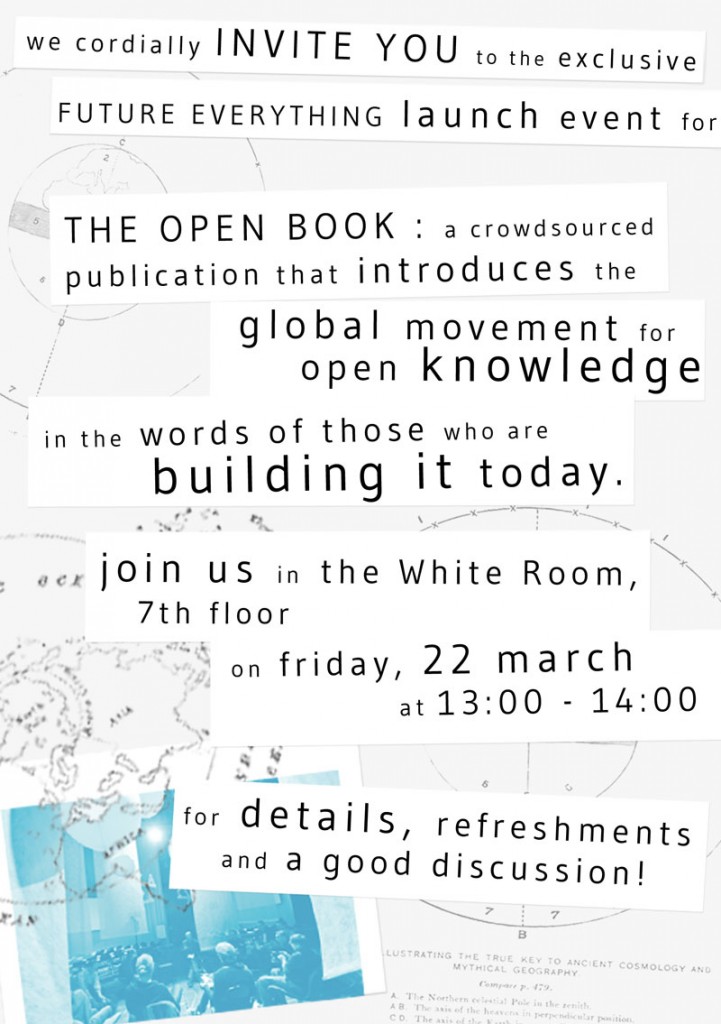 ---
The Open Book will be available in print at FutureEverything and online as a freely-available PDF under the Creative Commons Attribution-ShareAlike license. Its contributors retain individual copyright over their respective contributions, and have kindly agreed to release them for the book under the terms of this license.
---