The Open Knowledge Festival call for session proposals is now open!
The better the proposals, the better the festival, so we're inviting you to put on your thinking caps and come up with revolutionarily brilliant ideas for sessions at OKFestival 2014.
We know you can do it, and we know you'll make this festival a huge success by bringing your input to it. To help you fine-tune your ideas –  and ask any burning questions  that you may have – the Festival Programme Team are going to be on hand via online hangouts over the next week to give you some pointers.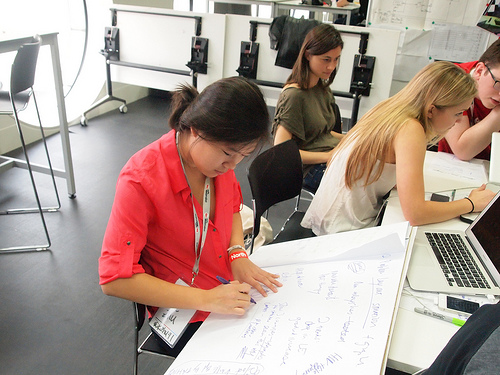 In fact, we're happy to announce three new tools to help make the magic happen:
we've created a public mailing list which you can use to connect and team up with other session planners, to share ideas, plans and tips for OKFestival sessions

we've created a brand-new webpage on our festival site with tips to help you build and facilitate the best sessions possible for/at OKFestival

we're hosting two live hangouts (links below) where you can ask for advice or input on your ideas from us, and exchange tips with each other to help make your proposal shine
Hangouts will be held on Friday, March 7 at 21:00 GMT (22:00 CET/ 13:00 PST/ 16:00 EST) and on Monday, March 10, at 10:00 GMT (11:00 CET/ 13:00 EAT/ 18:00 HKT). We'll be interacting with you live via etherpad and Twitter – #okfestsessions – as well as via the Google+ Hangouts Q&A App where you can post your questions on the day. The hangouts will be streamed direct to our YouTube channel and G+ page.
If you can't join us for whatever reason, don't worry – the resultant YouTube videos will be archived so you can watch them later and you can also continue to read and contribute to the etherpad after the hangouts.
We're looking forward to building this year's programme with you!
As the Open Knowledge Foundation's Events Manager Beatrice leads the team organising OKFestival 2014 (Berlin, July 15-18 – see you there!). Furthermore, she coordinates other Open Knowledge Foundation events working to expand the organisation's global network through a variety of in person and online actions and formats.
She's also a core member of OpenTechSchool, a community initiative offering free programming workshops and meetups. Follow her on Twitter @beatricemartini.