This is a cross-post from the OKFestival blog, see the original here. Read also about the first stream we presented, the Knowledge Stream.

In this 3-post series, we turn the spotlight to the the narrative streams of this year's Open Knowledge Festival. We've already highlighted the Knowledge stream; today's stream of choice is Society. This stream is kindly supported by the Omidyar Network, although all sessions within the stream remain editorially independent.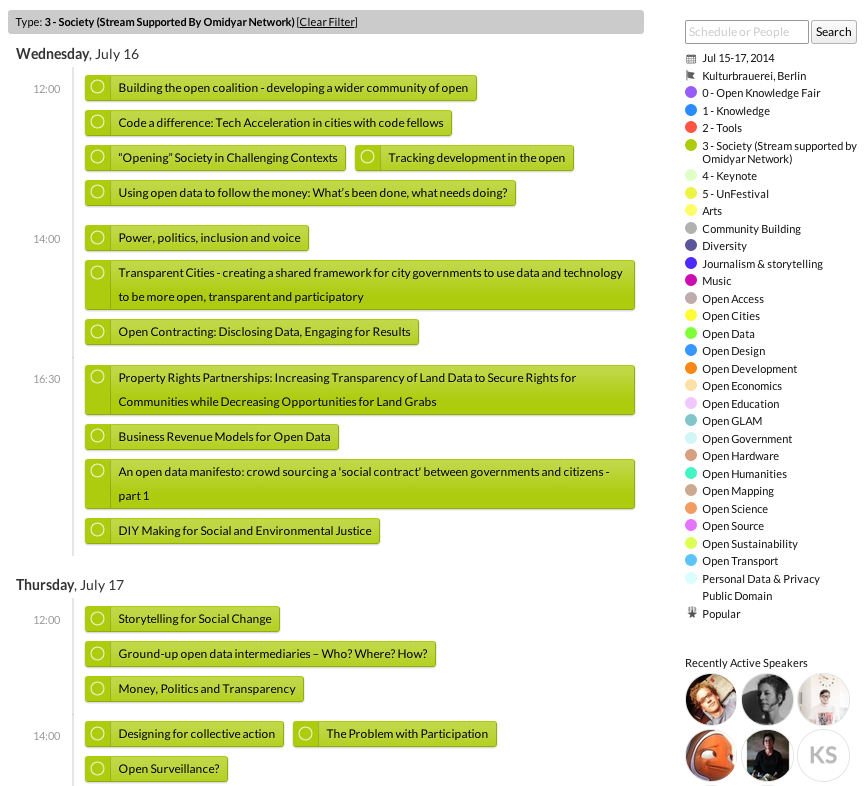 "Knowledge and tools are never developed independent of society. What we know is a shaped by our experiences and tools we develop reflect our needs and our perspective. For open knowledge to effect change, we need to explore the role society, people, cultures and perspectives, play in the change process."
The Society Stream at OKFestival will explore how communities are designing open institutions,  holding governments and corporations to account, developing open business models, ensuring the protection of privacy and ultimately shaping a more equitable world. We will explore how different contexts affect and cultural norms interact with open principles in the aim of deepening our understanding about how to to build more equitable societies. Here is just a taste of what you are in for:
Towards Transparent and Accountable Institutions: 
By opening up data and democratising access to information, citizens are better able to monitor how governments are spending money on their behalf or to determine where corporations are sourcing their materials. In the Society Stream we will take a closer look at how citizens using data and information to create more accountable and more transparency societies.
Citizens have the right to know how governments spend public money  and the creation of a usable and flexible Open Contracting data standard will ensure that, as the Open Contracting movement gathers pace, partners across the world can gain access to 'joined up data', supported by an ecosystem of tools and services, rather than facing many silos of disjointed contracting data. These efforts are intended to complement other efforts by organisations such as the Stop Secrets Contract campaign supported by Open Knowledge and others.
 City governments have to navigate their legal and institutional framework, political willingness and the capacity to be open. However, they must also consider the state of their data and the implications on the demand for open data,the choice of technology and its influence on democratising data creation and use, and the role of citizens and intermediaries in opening up a city. The session is unique as it allows for joint conversations among government officials from the four cities as well as groups that engage with them. The discussions will be situated in the intersection of data, technology and citizen participation, and will aim to develop a policy, advocacy and implementation road map for open cities that governments can adopt to respond to their local contexts.
Beyond Access: Opening Up Institutions and Processes through Participation
In the Society Stream we will move beyond access to look at how we can use participatory practices to open up traditionally closed institutions and processes.
This session will facilitate the learning process of embedding Public Lab methodology into DIY style making for environmental good. In this session, participants will learn the importance of grassroots co-creation in conceptualising tools and techniques for environmental health monitoring. It will demonstrate the importance of community involvement in methodological design, from the first step of problem identification, to show how open hardware and software tools can be scaled and replicated into other locations.
For more details on this session, check out Shannon's interview with OKCast here
The UK Cabinet office will lead us in crowdsourcing ideas for a manifesto for an open data era – a social contract between government and citizens. By engaging people in the lead up to OKFestival using social media and then over the course of the 2 days of the festival, this session will collect ideas for inclusion in the manifesto that will ultimately be collaboratively drafted on the second day. At the end we will leave the manifesto online & invite people to comment on it over the following month.
Power, Surveillance and the Dark Side of Opening Up 
We recognise that opening up information and processes often challenges entrenched power structures and in the Society Stream we will explore how power and inclusion as well as government surveillance and privacy impact our ability to effect change.
What does creating knowledge access, designing tools for knowledge sharing, and implementation of "open society" mean for all users in context? When thinking about "open" in government, data, and society, the contextual factors that affect people's needs often go neglected. These factors, in all their challenge and complexity, are important pieces of the open society puzzle.Drawing on an example from Reboot's work, when building a citizen feedback tool to encourage engagement between government officials and citizens in Nigeria, we were working within political constraints affecting how, when, where, and what kind of service delivery would work. We also recognised cultural, logistical, and geographic challenges that affect people's emotions and behaviours.
Open Government created a global movement using public data to create a better world. Snowden's revelations about the role of NSA and other agencies spying on citizens came as a shock to the international open government community. How should we address illegal surveillance from an open government perspective? How should the open government community react to threats to privacy and other fundamental human rights? How do we address address issues related to data traffic and surveillance? This session will explore ethical, normative and empirical approaches to secure fundamental human rights in an age of open government and open data. The session aims to address a usually ignored yet crucial issue about human rights, open data and surveillance.
This year, Omidyar are sponsoring the Society track and we're grateful to them for supporting conversations about the many ways knowledge and society intersect. Sessions in this track remain editorially independent unless marked as a sponsored session.

Christian is the International Community Manager for the Open Knowledge global network and additionally volunteers with the Danish Open Knowledge Local Group. He has a background in media and culture entrepreneurship, community creation and hacktivism - and is a dedicated open-everything advocate.