This blog is part of the event report series on International Open Data Day 2017. On Saturday 4 March, groups from around the world organised over 300 events to celebrate, promote and spread the use of open data. 44 events received additional support through the Open Knowledge International mini-grants scheme, funded by SPARC, the Open Contracting Program of Hivos, Article 19, Hewlett Foundation and the UK Foreign & Commonwealth Office. This event was supported through the mini-grants scheme under the Open contracting and tracking public money flows theme.
On Friday 3rd March 2017, the Anti-Corruption Coalition Uganda (ACCU) commemorated the International Open Data Day 2017 with a meetup of 37 people from Civil Society Organizations (CSOs), development partners, the private sector and the general public. The goal of this meetup was to inform Ugandan citizens, media and government agencies on the importance of open data in improving public service delivery.
Process  
The process started with an overview of open data since the concept seemed to be new to most participants. Ms. Joy Namunoga, Advocacy Officer at ACCU, highlighted the benefits of open data, including value for money for citizens and taxpayers, knowing governments transactions, holding leaders accountable, constructive criticism to influence policy, boosting transparency, reducing corruption and increasing social accountability.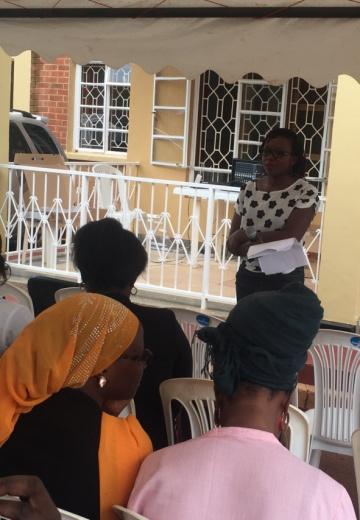 With such a background, participants observed the fact that in Uganda, 19% of people have access to the internet. Hence the need to embrace media as a third party to interpret data and take the information closer to citizens. Participants noted that, while Uganda has an enabling policy framework for information sharing; the Access to Information Act and regulations require information to be paid for, namely $6, yet the majority of Ugandans live below $2 a day. The financial requirement denies a percentage of Ugandans their right to know. It was also noted that CSOs and government agencies equally do not avail all the information on their websites, which further underscores this fact.
Issues discussed
Open contracting
Mr. Agaba Marlon, Communications Manager ACCU took participants through the process of open contracting as highlighted below:
He showcased ACCU's Open Contracting platform commonly known as USER (Uganda System for Electronic open data Records), implemented in partnership with Kampala Capital City Authority (KCCA), a government agency, and funded by the United Nations Development Programme. This platform created a lively conversation amongst the participants, and the following issues were generated to strengthen open contracting in Uganda:
Popularizing open data and contracting in Uganda by all stakeholders.

Mapping people and agencies in the open contracting space in Uganda to draw lines on how to complement each other.

Lobbying and convincing government institutions to embrace the open contracting data standards.

Stakeholders like civil society should be open before making the government open up.

Simplification of Uganda's procurement laws for easier understanding by citizens.

Faming and shaming of the best and worst contractors as well as advocating for penalties to those who fraud rules.

Initiating and strengthening of information portals i.e., both offline and online media.
Bringing new energy and people to the open data movement
Mr. Micheal Katagaya, an open data activist, chaired this session. Some suggestions were made that can bring new energy to the open data movement, such as renegotiate open data membership with the government, co-opting celebrities (especially musicians) to advocate for open data, simplifying data and packaging it in user-friendly formats and linking data to problem-solving principles. Also, thematic days like International women's day, youth day or AIDS day could be used to spread a message on open data, and local languages could be used to localise the space for Ugandans to embrace open data. Finally, it was seen as important to understand audiences and package messages accordingly, and to identify open data champions and ambassadors.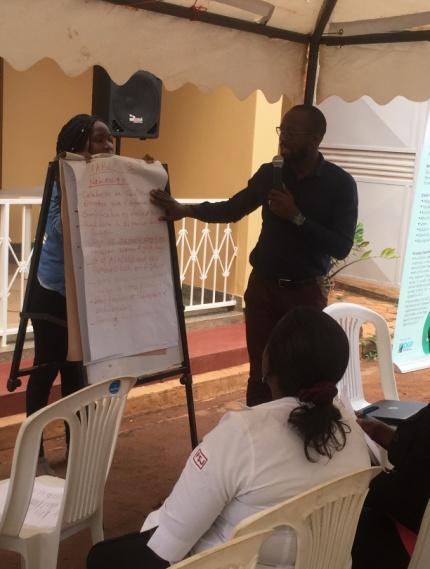 Sharing open data with citizens who lack internet access
This session was chaired by Ms. Pheona Wamayi an independent media personality. Participants agreed that civil society and government agencies should strengthen community interfaces between government and citizens because these enable citizens to know of government operations. ACCU was encouraged to use her active membership in Uganda to penetrate the information flow and disseminate it to the citizens. Other suggestions included:
Weekly radio programs on open data and open contracting should be held. Programs should be well branded to suit the intended audiences.

Simplified advocacy materials should be produced for community members' i.e., leaflets, posters to inform the citizens on open data. Community notice boards could be used to disseminate information on open data.

Civil society and government should liaise with telecom companies to provide citizens with the internet.

Edutainment through music and forum theatre should be targeted to reach citizens on open data.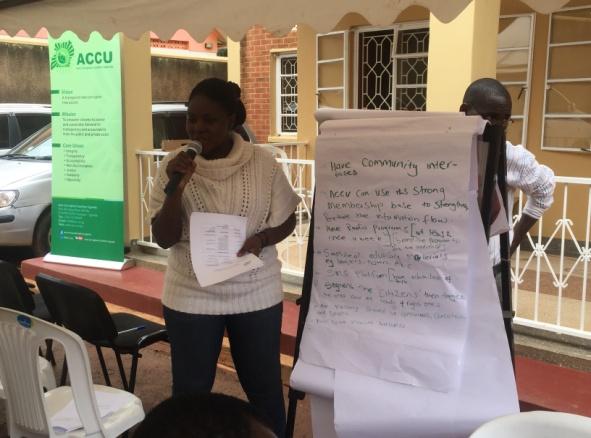 Way forward
Ms. Ephrance Nakiyingi, Environmental Governance officer-ACCU took participants through the action planning process. The following points were suggested as key steps to pursue as stakeholders:
Consider offline strategies like SMS to share data with citizens

Design  massive open data campaigns to bring new energy to the movement

Develop a multi-media strategy based on consumer behaviour

Creating synergies between different open data initiatives

Embrace open data communication

Map out other actors in the open data fraternity

In-house efforts to share information/stakeholder openness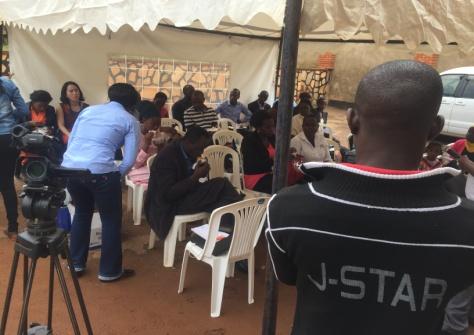 As the advocacy officer for Anti-Corruption Coalition Uganda, Joy Namunoga empowers citizens to actively and sustainably demand transparency and accountability from public and corporate officials.