This blog is part of the event report series on International Open Data Day 2017. On Saturday 4 March, groups from around the world organised over 300 events to celebrate, promote and spread the use of open data. 44 events received additional support through the Open Knowledge International mini-grants scheme, funded by SPARC, the Open Contracting Program of Hivos, Article 19, Hewlett Foundation and the UK Foreign & Commonwealth Office. This event was supported through the mini-grants scheme under the Human Rights theme.
Saturday is a holiday across the country of Nepal. For many, it's the only day they get off from work. Streets are quiet, shops are closed, and you would certainly have difficulty getting any business done. Yet, on Saturday, 4th March, one office was not only open but hosted a bustling co-creation session for ideas around migration in Nepal.
To celebrate Open Data Day, the Accountability Lab welcomed to the OpenGov Hub Kathmandu eight of our Community Frontline Associates (CFAs), our "accountapreneur," Yubaraj Nepal, and his colleague Basanta Ghimire from the Center for Migration and International Relations (CMIR) for an interactive event, Open Data in Migration. This event was funded by Open Knowledge International's mini-grants scheme.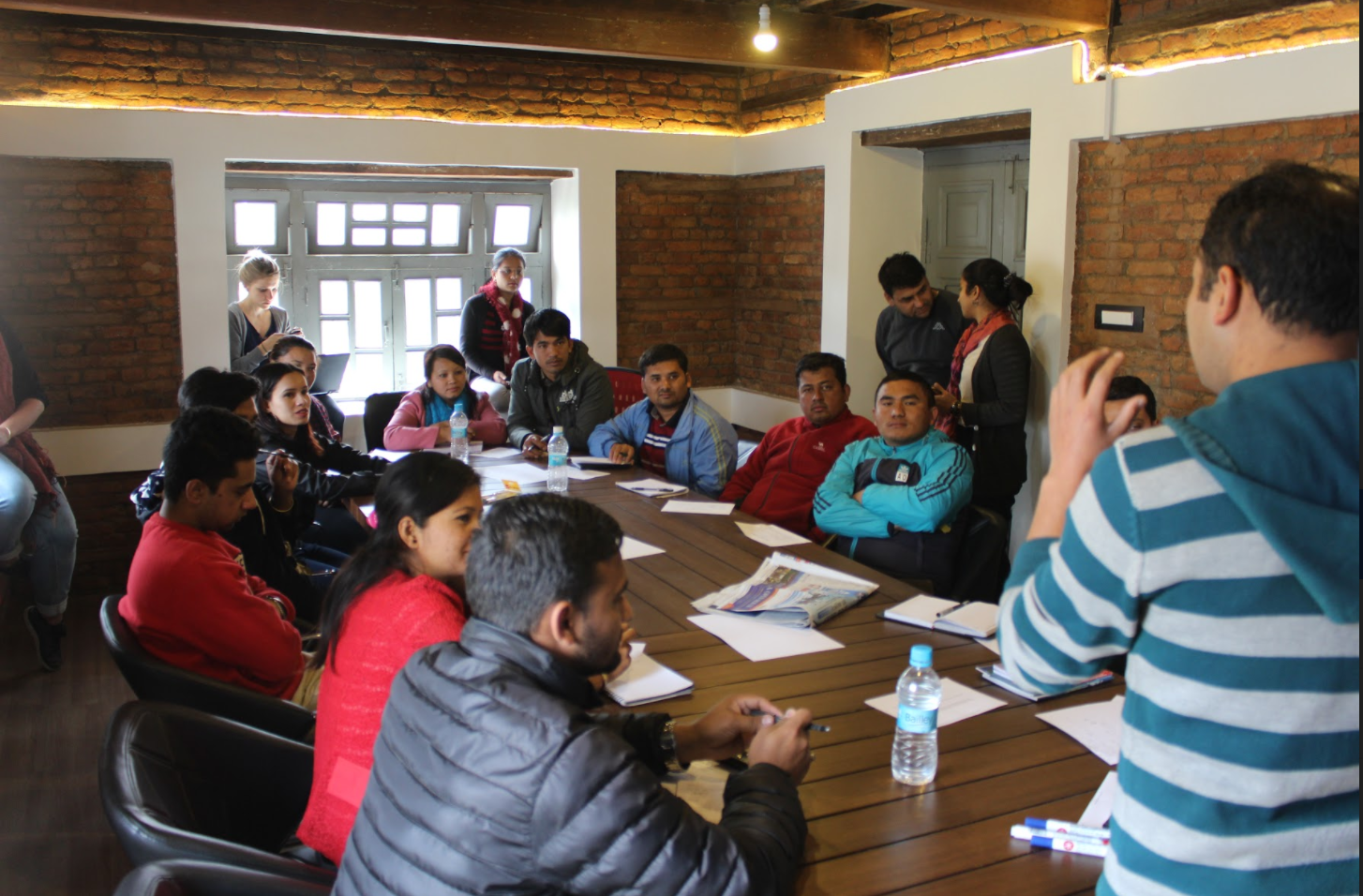 The event focused on migration issues in Nepal and the problems that migrant workers and their families face due to a lack of information. Labour migration began growing in Nepal during the Maoist insurgency when young men started leaving the country in order to avoid participating in the conflict. The trend continues today with increasing numbers leaving Nepal to work in countries in the Gulf region and Malaysia.
In the past nine years, 2.7 million Nepalis have gone abroad for work due to lack of economic opportunities in many villages. In a country of just 27.8 million people and with so many foreign labourers going undocumented, this means that over a tenth of Nepal is directly involved with the migration labour sector. Underlying causes of this phenomenon include a lack of accountability for those in power as well as the deep corruption of public resources, leaving abject poverty that forces the movement of millions.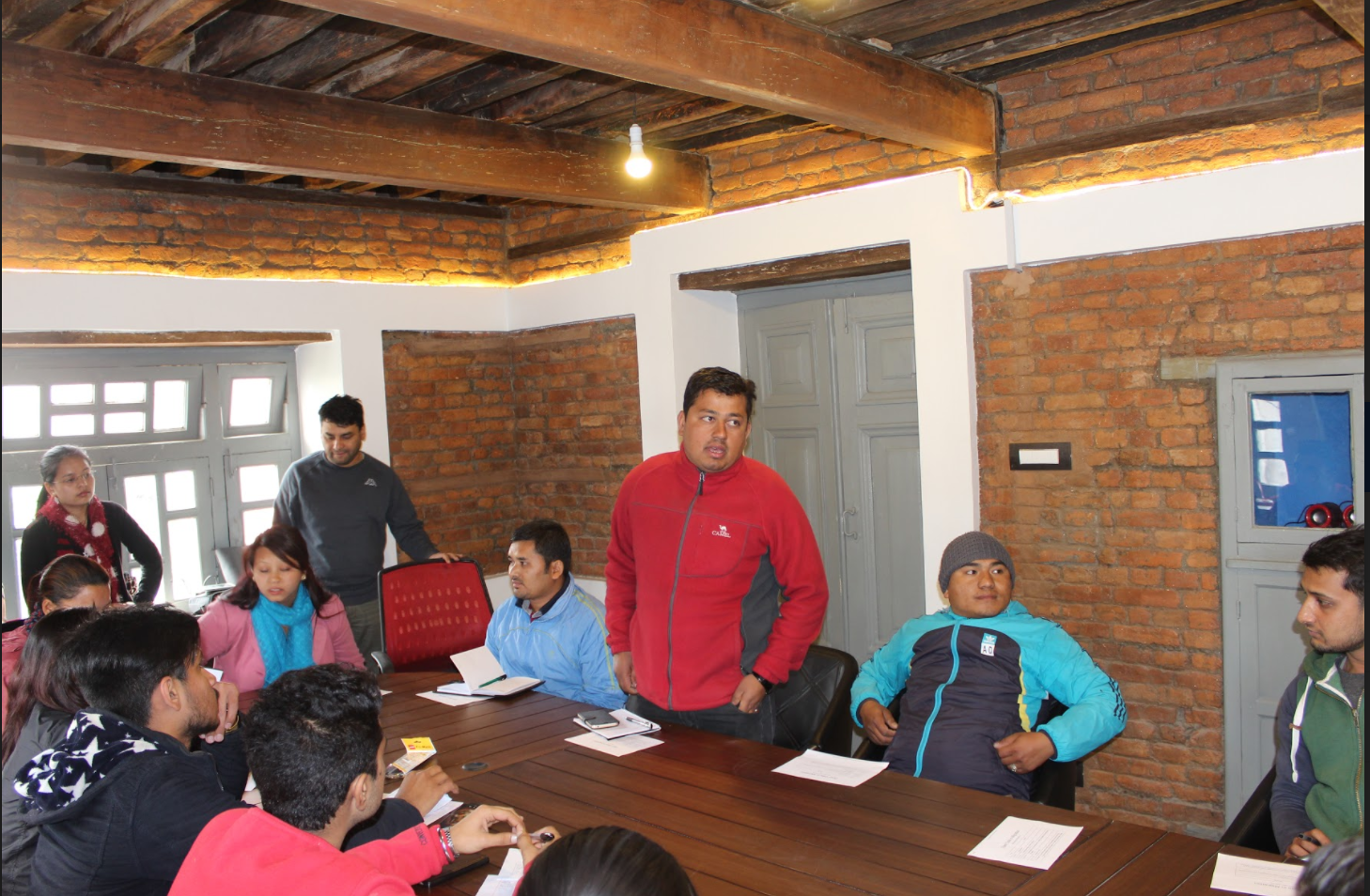 Some labour migrants go through recruitment agencies, while others go to individuals who promise to find them a job abroad. Since many aspiring migrants are unaware which individuals and/or recruitment agencies are authorised by the government, many have been victims of fraud with no avenues to bring the fraudsters to justice. Some recruitment agencies and individuals take advantage of people's lack of knowledge about foreign employment and charge them hefty fees to secure a job abroad or simply disappear after accepting the fees.
Being knowledgeable and up to date about different realised and avenues to seek help if misled or mistreated while trying to go abroad to work will not only save the migrants money but will allow them to make an informed and safe decision. Many migrant workers have been cheated during their foreign employment journey, or in the worst cases, have gone missing or died working in unbearable conditions abroad, leaving their families in Nepal without any answers or ways to seek justice.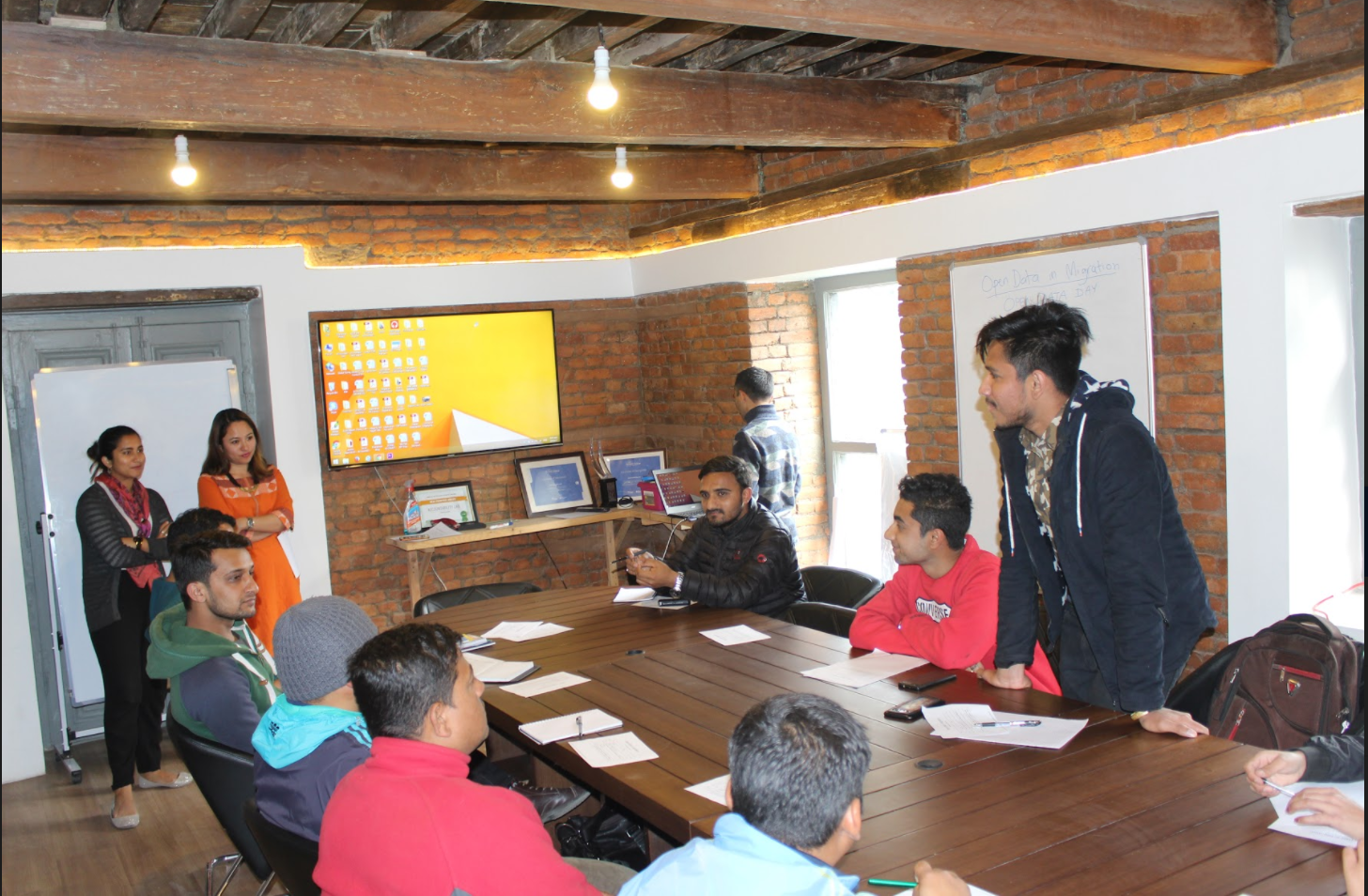 The Accountability Lab already addresses much of the confusion in the post-earthquake recovery and rebuilding processes with community meetings hosted by our Citizen Helpdesk CFAs. Through those meetings, we have also realised just how pervasive an issue foreign labour migration is in those communities. So, for Open Data Day, we brought our CFAs to our Kathmandu office to interact with one of the social entrepreneurs from our Accountability Incubator working at the Center for Migration and International Relations (CMIR), to help inform migrant workers about their rights and existing policies to ensure a safe foreign employment process and various ways to address problems that may arise while working abroad.
The day opened with each of the CFAs sharing the specific issues of migration they encountered in their villages. Our CFAs are skilled journalists, but they are also members of these communities themselves and the stories they shared were deeply personal. Several had seen half of their village leave for foreign employment, while others had heard of families losing touch after years of separation. Others had stories of workers who had given everything to go abroad and still returned empty-handed. There are stories of fraud and legal troubles, as well as deaths abroad leaving families unable to claim their bodies or any government funds.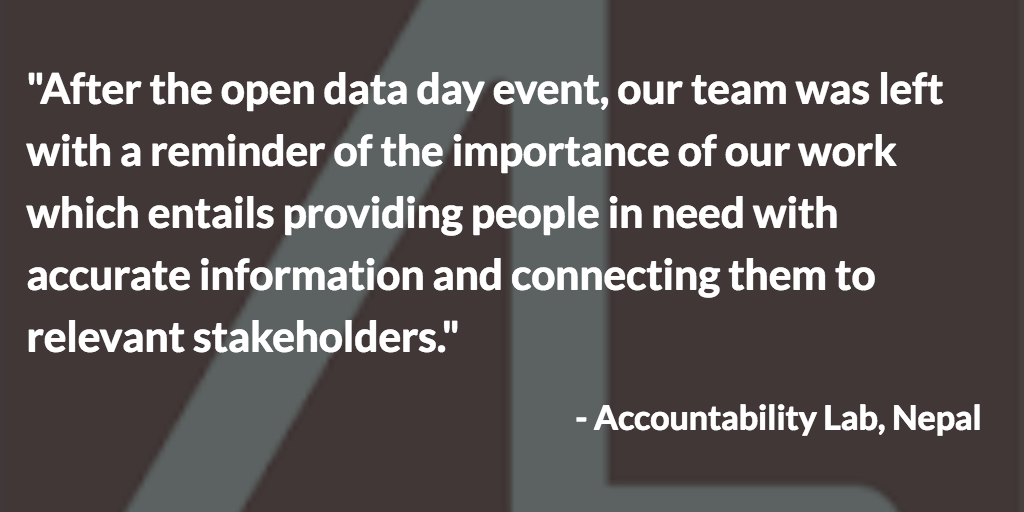 Everyone participated in "Mapping the Journey of a Migrant Worker," an activity in which they all identified the steps in the process of leaving for foreign employment and the numerous information gaps in this process. Yubaraj and Basanta directed the CFAs to the websites available to identify which recruitment agencies are authorised by the government and which are not.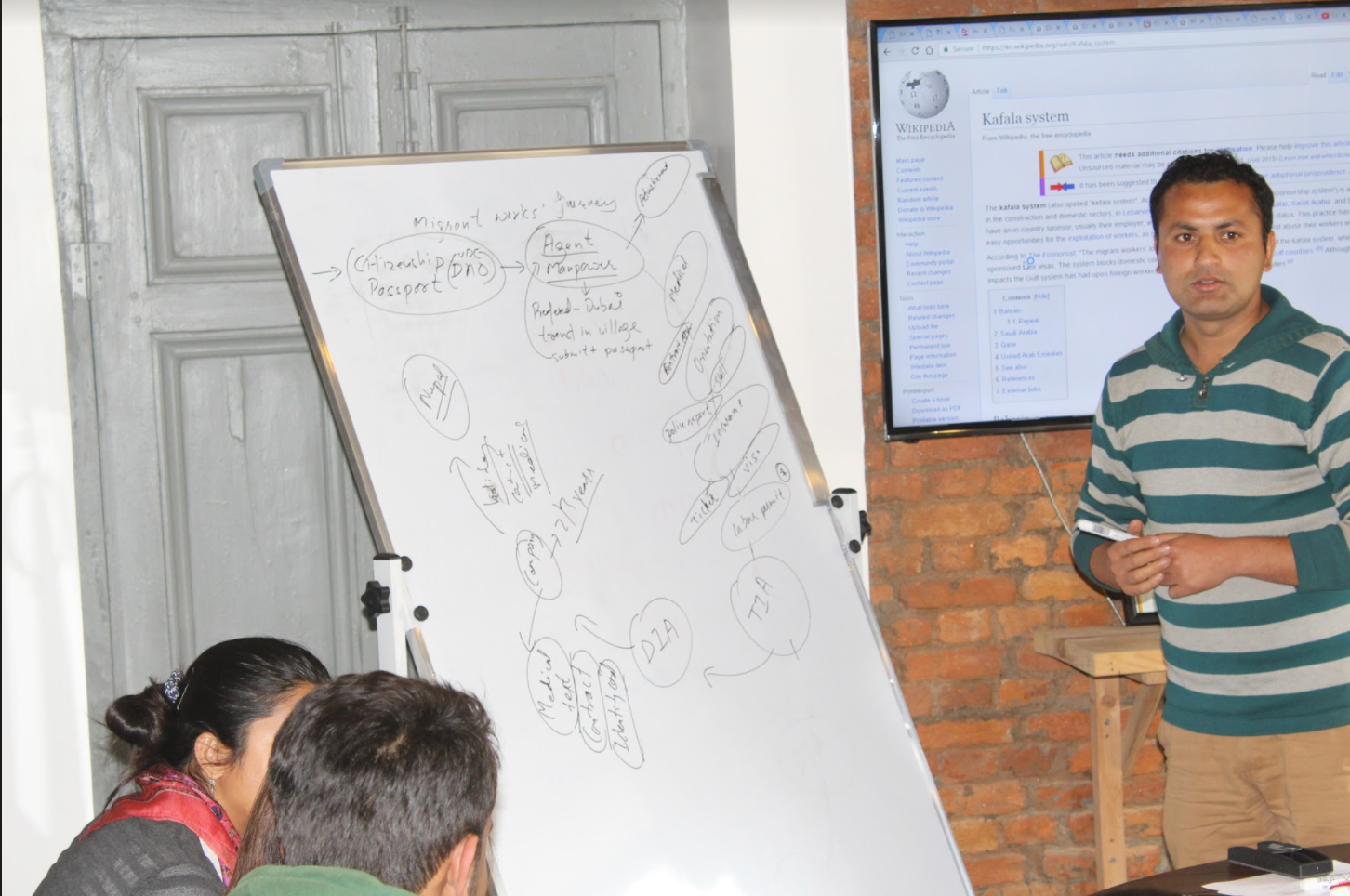 They advised the participants on the three critical things to remember when advising community members on foreign migration:
It is important to get a receipt for any fees charged by the recruitment agency to avoid overcharging or fraud.

If the recruitment agency requires that the migrant worker hand over their passport, the worker should have a receipt of that transaction, copies of their passport, or at the very least texts and emails proving the agency's possession of the passport.

Finally, family members should also have copies of all the documents involved in the process of leaving for foreign employment to ensure future processes are easier.
By the end of the day, our team had printed key documents that CMIR had found and identified as important, and which many citizens often need but are unable to access. The CFAs left with copies of those documents to distribute to the various villages and the three critical pieces of advice CMIR encouraged them to keep in mind. Our team, too, left with a reminder of the importance of our work providing people in need with accurate information and connecting them to the relevant stakeholders. The lessons from our Open Data Day will no doubt shape the future work of the Citizen Helpdesk, Accountability Lab, and OpenGov Hub Kathmandu.  
The Accountability Lab catalyzes a new generation of active citizens and responsible leaders around the world. We train, mentor, and resource local changemakers to strengthen systems of accountability and unleash positive social and economic change.