This blog is part of the event report series on International Open Data Day 2017. On Saturday 4 March, groups from around the world organised over 300 events to celebrate, promote and spread the use of open data. 44 events received additional support through the Open Knowledge International mini-grants scheme, funded by SPARC, the Open Contracting Program of Hivos, Article 19, Hewlett Foundation and the UK Foreign & Commonwealth Office. This event was supported through the mini-grants scheme under the Open contracting and tracking public money flows theme.
It is important to acquire skills to intervene effectively in the democratic processes. The Youth Association for Development (YAD)-Pakistan celebrated the annual Open Data Day on March 4th, 2017 in Quetta, Pakistan.  The themes of the day were"Our Money Our Responsibility", and "Open Data is Oil, Open Data is Soil". We looked at the demand for an open budget, open tenders, open bids, open jobs, open procurement and open recruitment to make public institutions accountable to citizens and to keep the entire public data open with online access to each and every citizen to ensure transparency and accountability.
During the day, different speakers and facilitators delivered their speeches on open data and informed the participants that the government is endowed with the responsibility of prescribing regulations and procedures for public procurement and must make sure these are followed to the latter. This is important to improve governance, management, transparency, accountability and quality of public acquisition of goods, works and services.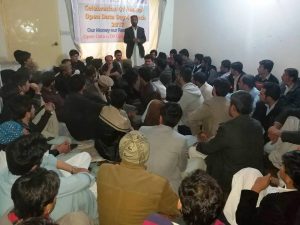 They also mentioned the importance of monitoring procurement of public sector agencies/organisations and to keep a record that is open to everyone, as it is done in some developed nations where they have revolutionised their economies through e-procurement systems. For some time now, there has been the need within the government to develop an e-Procurement system for Pakistan. The growth of Public and Private sector are equally important for a stable economy. However, there is a need for both sectors to be on the same page to revitalise the essence of an Electronic Government Procurement (e-GP) system as an integral part of an overall strategic procurement plan. The plan should include but not limited to strategic sourcing or supplier rationalisation, automation of the manual procurement system, and participation in one or more marketplaces.
To support the development, implementation and operation of e-procurement systems, governments should take several different business approaches; the above choices of business models are associated with the amount of risk and cost a government is willing to undertake when implementing its e-GP system. The systems should also contain valuable information for monitoring and auditing government purchases, confidential information of vendors, procurement initiatives, responses to bids and payment information. It is important to note that e-procurement systems fundamentally provide a service to support the exchange information and therefore remain independent of the procurement process itself. A certain level of security is required to ensure the integrity, transparency and privacy of c processes, and also facilitate the marginalised citizens to become the agents of social action and social change of through open data.
Our speakers mentioned that the public sector, and especially the health department in Baluchistan [ one of Pakistan's four provinces] are facing several issues with no clear mechanism for data and open data because the health sector is managed quite poorly in Baluchistan. This is because while the national doctor to patient ratio (1:1000) or the national nurse to patient ratio (1:50) in Pakistan is quite dim, it is even worse in Baluchistan. For example, 11 million kids died before reaching the age of five in Baluchistan. Maternal mortality rate is alarming with 785/100,000 live births while infant mortality rate is 97/1000 live births.
In rural areas of Baluchistan, health services are at lower ebb and the state of hospitals, RHCs, BHUs are also not encouraging. This is backed by the Health Management Information System. However, due to the unavailability open data on the situation, the health sector is facing complaints from stakeholders including donor agencies that some EPI managers and DHOs were found compiling and submitting fake agenda on health condition in their respective district.
Also, due to the unavailability of data on the health sector of Baluchistan, the province is facing several problems including monitoring, tracking, evaluation, tracing the data which is mostly not open because the data is only in hard format and not available and accessible to the public/citizens, policy, planning and diseases controlling, prevention and care. There is the need to build the capacities of the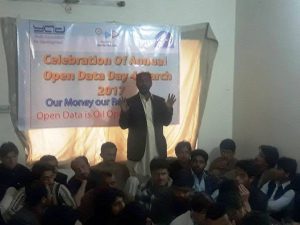 health department so they can develop critical provincial databases that cover all health sectors, health providers, health facilities with their identification code, routine operation and budget planning for practising in an evidence-based manner.
We also discuss the need for government to take the necessary steps to introduce openness, transparency and accountability in their entire departments and must also engage to help achieve practices of citizen participation as well as, responsive and accountable states. This will eventually lead to greater access to state services and resources; greater realisation of rights; enhancement state responsiveness and accountability.
The event concluded with thanks to Chief Executive Officer of YAD Atta ul Haq Khaderza. 
Atta ul Haq Khaderzai is the founder of YAD. He established the Youth Association for Development (YAD) through a dialogue among like-minded activist on March 2002. He is currently the Chief Executive Officer/ Board Member (Non-voting) of Youth Association for Development (YAD).