This blogpost was jointly written by Danny Lämmerhirt and Nisha Thompson (DataMeet).
Since its creation, the open data community has been at the heart of the Global Open Data Index (GODI). By teaming up with expert civil society organisations we define key datasets that should be opened by government to align with civil society's priorities. We assumed that GODI also teaches our community to become more literate about government institutions, regulatory systems and management procedures that create data in the first place – making GODI an engagement tool with government.
Tracing the publics of water data
Over the past few months we have reevaluated these assumptions. How do different members of civil society perceive the data assessed by GODI? Is the data usable to advance their mission? How can GODI be improved to accommodate and reflect the needs of civil society? How would we go about developing user-centric open data measurements and would it be worth to run more local and contextual assessments?
As part of this user research, OKI and DataMeet (a community of data science and open data enthusiasts in India) teamed up to investigate the needs of civic organisations in the water, sanitation and health (WASH) sector. GODI assesses whether governments release information on water quality, that is pollution levels, per water source. In detail this means that we check whether water data is available at potentially a household level or  at each untreated public water source such as a lake or river. The research was conducted by DataMeet and supervised by OKI, and included interviews and workshops with fifteen different organisations.
In this blogpost we share insights on how law firms, NGOs, academic institutions, funding and research organisations perceive the usefulness of GODI for their work. Our research focussed on the South Asian countries India, Pakistan, Nepal, and Bangladesh. All countries face similar issues with ensuring safe water to their populations because of an over-reliance on groundwater, geogenic pollutants like arsenic, and high pollutants from industry, urbanisation, farming, and poor sanitation.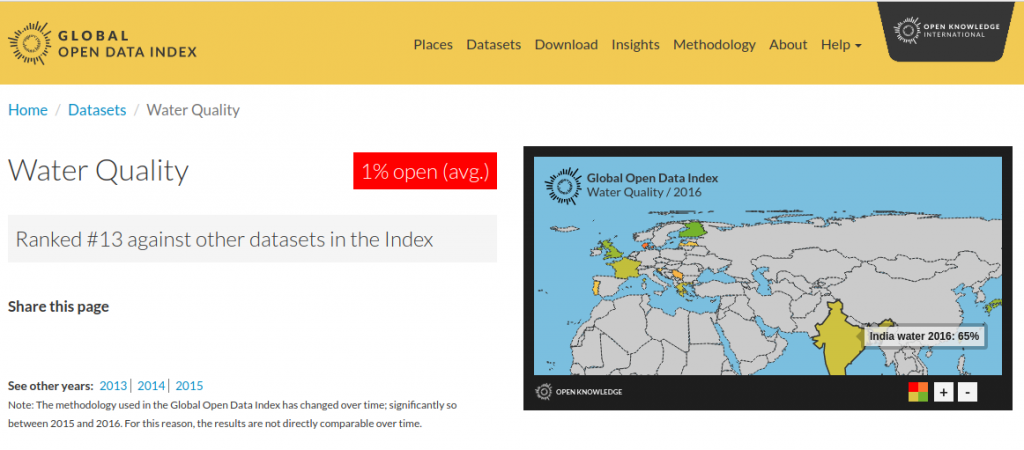 What kinds of water data matter to organisations in the water sector?
Whilst all interviewed organisations have a stake in access to clean water for citizens, they have very different motivations to use water quality data. Governmental water quality data is needed to
Monitor government activities and highlight general issues with water management (for advocacy groups).

Create a baseline to compare against civil society data (for organisations implementing water management systems)

Detect geographic target areas of under-provision as well as specific water management problems to guide investment choices (for funding agencies and decision-makers)
Each use case requires data with different quality. Some advocacy interviewees told us that government data, despite a potential poor reliability, is enough to make the case that water quality is severely affected across their country. In contrast, researchers have a need for data that is provided continuously and at short updating cycles. Such data may not be provided by government. Government data is seen as support for their background research, but not a primary source of information. Funders and other decision-makers use water quality data largely for monitoring and evaluation – mostly to make sure their money is being used and is impactful. They will sometimes use their own water quality data to make the point that government data is not adequate. Funders push for data collection at a project level not continuous monitoring which can lead to gaps in understanding.
GODI's definition of water quality data is output-oriented and of general usefulness. It enables finding the answer to whether the water that people can access is clean or not. Yet, organisations on the ground need other data – some of which is process-oriented – to understand how water management services are regulated and governed or what laboratory is tasked to collect data. A major issue for meaningful engagement with water-related data is the complexity of water management systems.
In the context of South Asia, managing, tracking, and safeguarding water resources for use today and in the future is complex. Water management systems, from domestic to industrial to agricultural ones, are diverse and hard to examine and keep accountable. Where water is coming from, how much of it is being used and for what, and then how waste is being disposed of are all crucial questions to these systems. Yet there is very little data available to address all these questions.
How do organisations in the WASH sector perceive the GODI interface?
GODI has an obvious drawback for the interviewed organisations: transparency is not a goal for organisations working on the ground and does not in itself provoke an increase in access to safe water or environmental conservation. GODI measures the publication of water quality data, but is not seen to stimulate improved outcomes. It also does not interact with the corresponding government agency.
One part of GODI's theory of change is that civil society becomes literate about government institutions and can engage with government via the publication of government data. Our interviews suggest that our theory of change needs to be reconsidered or new survey tools need to be developed that can enhance engagement between civil society and government. Below we share some ideas for future scenarios.
Our learnings and the road ahead
Adding questions to GODI
Interviews show that GODI's current definition of water quality data does not always align with the needs of organisations on the ground. If GODI wants to be useful to organisations in the WASH sector, new questions can be added to the survey and be used as a jumping off point for outreach to groups. Some examples include:
Add a question regarding metadata and methodology documentation to capture quality and provenance water data, but also where we found and selected data.
Add a question regarding who did the data collection government or partner organisation. This allows community members to trace the data producers and engage with them.
Assess transparency of water reports. Reports should be considered since they are an important source of information for civil society.
Customising the Open Data Survey for regional and local assessments
Many interviewees showed an interest in assessing water quality data at the regional and hyperlocal level. DataMeet is planning to customise the Open Data Survey and to team up with local WASH organisations to develop and maintain a prototype for a regional assessment of water quality. India will be our test case since there is local data for the whole country available at varying degrees across states. This may include to also assess quality of data and access to metadata.
Highest transparency would mean to have water data from each individual lab were the samples are sent. Another use case of the Open Data Survey would include to measure the transparency of water laboratories. Bringing more transparency and accountability to labs would be the most valuable for ground groups sending samples to labs across the country.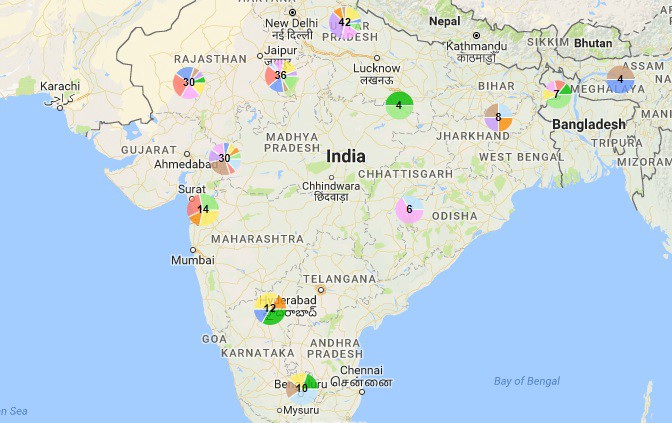 Storytelling through data
Whilst some interviewees saw little use in governmental water quality data, its usefulness can be greatly enhanced when combined with other information. As discussed earlier, governmental water data gives snapshots and may provide baseline values that serve NGOs as rough orientation for their work. Data visualisations could present river and water basin quality and tell stories about the ecological and health effects.
Behavior change is a big issue when adapting to sanitation and hygiene interventions. Water quality and health data can be combined to educate people. If you got sick, have you checked your water? Do you use a public toilet? Are you washing your hands? This type of narration does not require granular accurate data.
Comparing water quality standards
Different countries and organisations have different standards for what counts as high water pollution levels. Another project could assess how the needs of South Asian countries are being served by a comparing pollution levels with different standards. For instance, fluorosis is an issue in certain parts of India: not just from high fluoride levels but also because of poor nutrition in those areas. Should fluoride affected areas have lower permissible amounts in poorer countries? These questions could be used to make water quality data actionable to advocacy  groups.
Danny Lämmerhirt works on the politics of data, sociology of quantification, metrics and policy, data ethnography, collaborative data, data governance, as well as data activism. You can follow his work on Twitter at @danlammerhirt. He was research coordinator at Open Knowledge Foundation.