This blog has been translated from its original version on the OK Brasil blog. The complete 2018 Annual Report of OK Brasil is available here.
The year 2018 was of great evolution for Open Knowledge Brasil from the institutional point of view. Under new leadership and with a new team, with the incorporation of "Operação Serenata de Amor", we've dedicated time to strengthening our strategic vision and our programmatic lines, with the aim of positioning the organization at the forefront of the open knowledge movement in Brazil. We've achieved this goal in three ways:
With the intensification of projects and activities with high potential for impact and the DNA of Open Knowledge,

Through partnerships and coalitions signed with public sector regulation agencies, aiming for greater collaboration in scale, and

Through participation in relevant events and mentions in the media to guide the national debate around issues such as transparency and social control.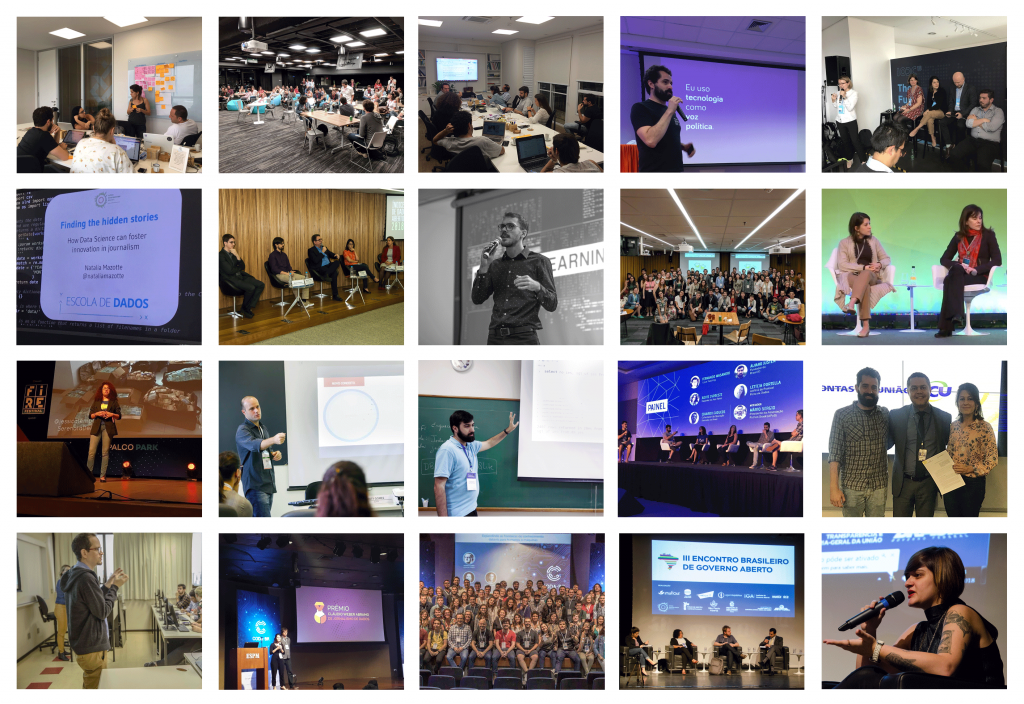 We understand the tremendous value of technology and open data for strengthening democratic governance. For this reason, we have focused our efforts on structuring the Data Science for Civic Innovation program, which launched four new projects: Perfil Político, Querido Diário, Vítimas da Intolerância and Queremos Saber.
We have also broadened our articulation and advocacy actions. We issued seven public statements with other organizations, especially on issues related to transparency and open governance. We have signed partnerships with public bodies, such as the Federal Audit Office and the Federal Comptroller's Office, and actively participate in coalitions such as the Transparency and Social Participation Network and the Pact for Democracy.
Escola de Dados, the Brazilian chapter of School Of Data, our data literacy program, held the third edition of Brazil's main event of digital methods and data journalism – Coda.Br 2018, attended by more than 300 people in São Paulo in November. The School Of Data also expanded its course offers and launched new online tutorials. In addition, the program started a series of local events to foster the development of interdisciplinary communities to think about data-driven projects with social impact: Cerveja com Dados (Beer with data). There were 18 editions of the event in 10 cities, bringing together about 700 participants during the year.
We've talked in more than 20 events in Brazil, conducted by partners from academia, civil society and governments. This allowed us to expand the reach of our projects and to sew new work fronts with more public and private entities.
The results of our communication followed the rhythm of the other fronts of Open Knowledge. We've had a more consistent performance in social networks, aimed at presenting our vision, our projects and activities, and more appearances in the mainstream media, including in news broadcasts. We've participated or were explicitly mentioned in eight TV programs, three of them on TV Globo – one in the Jornal Nacional, three in GloboNews, one in Al Jazeera TV and another in Rede Record. As a result, we have been able to guide, with the reach of millions of Brazilians, issues such as the oversight of the electoral campaign, the increase of violence due to political motivation, challenges to advance data disclosure policies, and more.
It was also a year of great challenges. The poor performance of economic activities, together with the political crisis scenario driven by the impeachment process and the consecutive phases of Operation Car Wash, undermined confidence in public institutions and social actors. The wave of populism and anti-democratic actions that spread around the world gained strength in Brazil, especially during the elections, marked by polarization and disinformation.
The role of Open Knowledge Brasil in this context is to encourage social participation in order to safeguard rights and strengthen the relationship between civil society and public institutions. Supporting active citizenship is a path to regaining confidence in the country. And this is only possible if we also advocate for more transparency of power.
The challenges for 2019 are set. Transparency, open data and civic technology will be transversal themes to all of them, and we will strengthen our actions to multiply relevant experiences in these themes. Demonstrating the value of an open and fair society is what guides the contribution of Open Knowledge Brasil in the years to come.
Natália Mazotte, Executive Director
Open Knowledge Brazil wants a world where free knowledge is present in our daily lives, both online and offline. We promote free knowledge by believing in its ability to generate great social benefits.