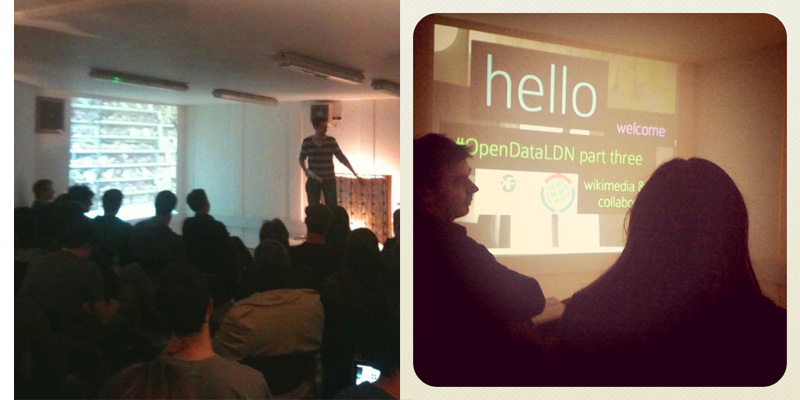 The following post is by Kat Braybrooke, a London-based Community Coordinator at the Open Knowledge Foundation.
Most Londoners agree that Monday night is usually the worst time of the week to hold an event. The workday is long, people are tired and public transit seems to be especially unpleasant. This past week, however, we witnessed a welcome deviance from the usual Monday grumpiness at the third #OpenDataLDN meetup – over 70 locals (some coming in from as far as Manchester, Leeds, and Oxford) gathered in a dimly-lit room at the Centre for Creative Collaboration over beers and laughter for a few hours of project-focused lightning talks, new ideas and inspiring discussions.
This time around, the event was co-hosted with the inimitable Oliver Keyes (@quominus) from the Wikimedia movement, who spoke about remixed data, geotagging and the use of Citations and other online apps to verify information and media. Following Oliver were the lighting talk presenters, who despite the massive failure of my computer's impudent presentation software (apologies!), spoke about their projects with good humour and poise. Talks included Julian Tate (@julianlstar), who spoke about Open Transport in Manchester, Jo Pugh (@mentionthewar) about an upcoming National Archives Hackday, Velichka Dimitrova (@vndimitrova) about the OKFN Open Economics Working Group, Kevin Carter (@KPC_001) about Landscape Portrait, and Keiichi Matsuda (@keiichiban) about an upcoming PRISM data-art exhibit at the V&A.
After pitching their projects, all of which utilise and work with open data in new and interesting ways, the audience broke into groups to discuss each project further. Walking around the space, I was impressed by the diversity of backgrounds and skill-sets represented in each group. With economists talking to artists and government representatives, and public domain enthusiasts discussing transport with open aid advocates and scientists, it seemed everyone present had something interesting to add. By the end of the night there was an infectious feeling of positivity and mutual respect in the air that carried on to the pub afterward as people continued to jam on ideas and schemed about new collaborations.
In ending, local meetups of this kind always remind me how inspiring it is to be engaged in the field of open knowledge – and I have Monday's crowd to thank for that. On the agenda for the next #OpenDataLDN, based on your much-appreciated Post It Note feedback, we'll aim to facilitate even more informal conversations, highlight new ways to work with data (including how to use the Open Government License and how to work with cultural data) and perhaps even show a public domain film or two. I already look forward to it.
Click below to browse through all of the night's conversations, photos, tweets and ideas – and stay tuned for the next #OpenDataLDN event here.
Special thanks to @lucyfedia and @StephenHignell for their photos of the event!