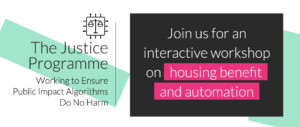 – Are you a lawyer, campaigner or activist working in the UK housing benefits system?
– Do you want to learn how automated decision systems are currently used in the housing benefits system in the UK ?
– Do you want to learn about legal strategies for challenging the (mis)use of these technologies?
= = = = = = =
Join the The Justice Programme team for an online 90 minute interactive workshop on Thursday September 23rd 2021 between 12.00 – 13.30 BST (London time).
Tickets for the event cost £110 (inc VAT) and can be purchased online here.
= = = = = = =
Tickets are limited to 20 people – to ensure that everyone who attends can maximise their learning experience.
If you are unwaged and can't afford a ticket, please email justice@okfn.org. The Justice Programme is offering two places at a 75% discount (£27.50 each).
All proceeds from this event are reinvested in the work of The Justice Programme, as we work to ensure Public Impact Algorithms do no harm.
= = = = = = =
What will I learn ?
In this Interactive Workshop on housing benefit and automation we will:
– explore how AI and algorithms are presently being used and likely to be used in UK and elsewhere
– review a summary of how algorithms work
– discuss the potential harms involved at the individual and societal levels
– summarise legal strategies, resources and best practices
– participate in a group exercise on a realistic case study
You will also get access to a guide summarising the key points of the workshop and documenting the answers to your questions.
This workshop is brought to you by Meg Foulkes, Director of The Justice Programme and Cedric Lombion, our Data & Innovation Lead.
Read more about The Justice Programme team here.

About The Justice Programme
The Justice Programme is a project of the Open Knowledge Foundation, which works to ensure that Public Impact Algorithms do no harm.
Find out more about The Justice Programme here, and learn more about Public Impact Algorithms here
James is the Development Manager at Open Knowledge Foundation. James is passionate about developing innovative projects that deliver measurable positive impact in the world. Get in touch if you want to talk about your ideas ! @the_robot_james