For the past month since the last OKFestival 2012 pioneers departed from Helsinki's misty shores, I've been wondering how to breach the topic of a "thank you" message to the remarkable community that made this highly experimental event, run on a shoestring budget with a crowdsourced programme, such a spectacular success for Finnish and international guests alike.
Indeed, how does one adequately thank the 1,000+ physical participants from over 50 nations who resulted in a completely sold out event? Or the 12,000 viewers of our online video streams who augmented the festival's programming using the Internet as a communication tool? Or the 214,000 cyberspace warriors who shared our OKFestival Slideshare Presentation to their colleagues and governments? How about those who flooded Twitter with over 18,000 #okfest tweets and those who published articles and blog posts on their own time, contributing to more than 200 features in mainstream and indie media? And how about the festival's 100 Guest Programme Planners, 60 #OKFestCrew volunteers, 400+ session facilitators, satellite event planners and keynote speakers, together featuring 300 presentations about topics as diverse as Open Development, Open Hardware, Open Government and Open Sustainability?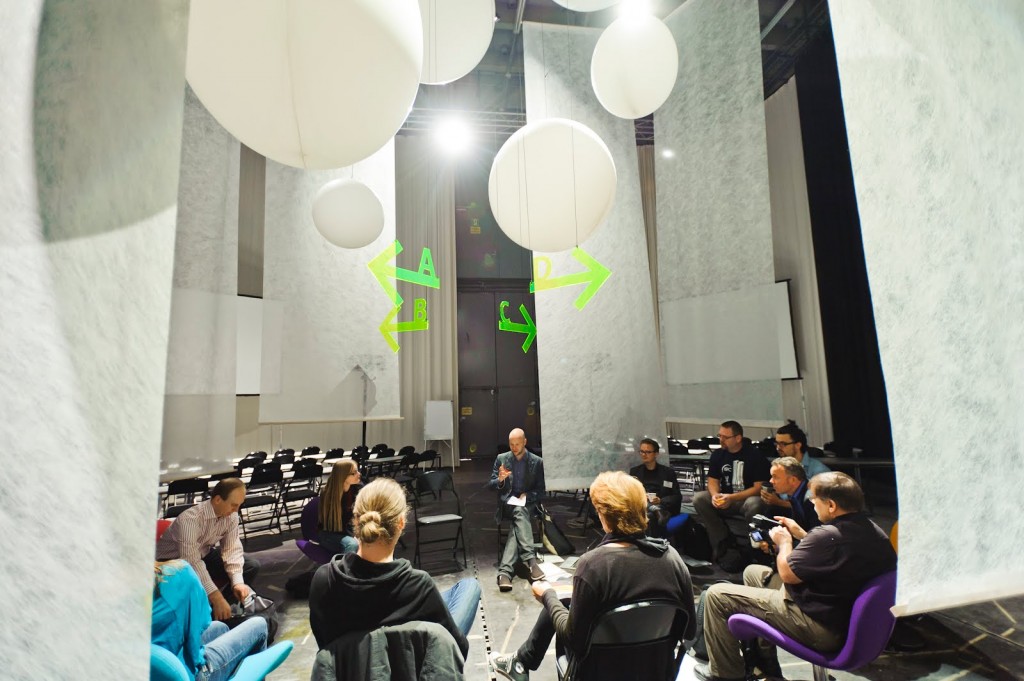 Needless to say, it has been exceedingly difficult to describe what the experience of such a remarkably positive event was like for those who could not join us this year. How does one explain that the air in Helsinki felt thick with the sense of new opportunities? How does one describe what it feels like to glimpse a movement in the midst of its own community renaissance? With over 355 hours of recorded video footage from seven simultaneous lifestream recordings of OKFestival 2012 sessions, workshops, satellite events and receptions, and hundreds of Flickr photographs and participant feedback forms to sift through, the production of final reports has been slow-going for all involved.
And yet, the picture of the OKFestival 2012 experience has started to become clearer as we sift through these reflections, piece by piece. Last week we found that 96% of OKFestival 2012 visitors have rated the festival's content as 'very interesting' or 'interesting'. We realised that over 19,000 people have now watched Hans Rosling's OKFestival keynote speech on the Web alone (and this doesn't count the hundreds who watched him in-person that night, who gave him a standing ovation, and who left with tears in their eyes). The amazing hackathons and hands-on workshops that made the week so interactive have given OKFestival major press features in hundreds of newspapers, TV channels and radio shows around the world, from WIRED to Finland's largest news outlet Helsigin Sanomat to Le Monde to ZDNet.
In the end, the greatest success of OKFestival 2012 was its welcoming atmosphere – and this fact is entirely thanks to the participants themselves. "Attending OKFestival for the first time, I was so heartened at seeing what I kept on calling in mind, 'My community, my tribe'. It will be hard for me now to go to other events, because I will end up judging them against the OKFestival, and they will fall short," said a Creative Commons employee from the US, and he wasn't alone. Many participants described having arrived alone as strangers, hopeful and nervous – only to leave the week with hundreds of new friends.
This feeling was enhanced by the hands-on participation of more than 650 organisations, companies and universities, from Finland's Ministry of Foreign Affairs to IBM to the Sunlight Foundation to YLE to Tieto Näkyväksi to Forum Virium to the Aalto Service Factory. I had a massive smile on my face every time I glimpsed the enthusiasm with which everyone got their hands dirty, working together to scrape government datasets and discuss open government practices, to learn introductory coding practices, to further open access and education, to help build Open Source CNC Mills in the FABLab, to collaborate around the cultural commons, to build new visualisations with data journalists and to meet open knowledge advocates from around the world. And each session benefitted from the diversity of such a mixed crowd – designers, businessmen, activists, educators, hackers and government officials beautifully jumbled together with an equally fascinating combination of methodologies, backgrounds and ideas. The results of these collaborations were both inspiring and overwhelming.
Indeed, on the first day of OKFestival, "overwhelming" was the predominant word cited by almost everyone. We stood aghast at the growing line of those who hoped for a ticket despite warnings that the event was already sold out. As event organisers who had previously run smaller community conferences like OGDCamp and OKCon with audiences of less than 500, we were baffled by the magnitude of it all. We worried that the experimental, crowdsourced nature of OKFestival's programme mixed with a very contemporary venue and under-capacity keynote theatre would spell disaster. We barely slept for weeks beforehand, preparing endless schedules and documents and webpages until dawn. And yet, we needn't have worried.
This year's Open Knowledge Festival was the first event of its kind to address open knowledge on such a large scale – and its overwhelming success has marked a significant push forward for open knowledge movements both in Finland and abroad. A Finnish open knowledge organisation, Open Knowledge Foundation Finland, will be founded to continue the festival's legacy in Finland, and next year we will publish The Open Book to showcase ideas highlighted by topic stream organisers and programme planners last month. And to reinforce the community-driven spirit of this event's planning, we intend to release the OKFestival 2012 budget to the public later this year.
Best of all, in 2013, the Open Knowledge Foundation will continue the legacy of this event by holding the next Open Knowledge Festival in Geneva with local organisers in Switzerland. In 2014, the location is up for grabs. "I got 'movemented' and want more!" a local Finn wrote to us after the festival – and I speak for everyone on the 2012 Organising Team when I say I also can't wait to see the next instalment of this unique community experience. I give my deepest thanks to our 2012 partners the Finnish Institute in London and Aalto Media Factory, to the Core Organising Team and to our Guest Programme Planners and volunteers. You have each been amazing – and you made this year's event an unforgettable experience.
To view more information about each of the 13 Topic Streams of OKFestival 2012, feel free to browse their summary pages on the online. You are also welcome to browse the numerous OKFestival video archives and photo archives.
---