Sign up here for monthly news to your inbox.
Welcome!
Hello and welcome to our latest news update on what is happening in and around the Open Knowledge Foundation. As we approach our 10th anniversary, we are reflecting on the open movement over the last decade and planning for the opportunities and challenges ahead. We are asking all of you what you think and to contribute to our community-wide survey to help us shape our future. Planning has also started for OKFestival in Berlin and now is the time to be thinking about how you would like to participate and what ideas, projects and contributions you can make to create an amazing event.
For the most up-to-the-minute info on all things Open, follow us on Twitter and on the blog.
And read our monthly Global community stories for more news – two this month: stories from Greece, Bangladesh, Argentina and Canada and Ireland and Germany.
Community Survey – share your thoughts!
What does Open Knowledge mean to you? Why are you involved? We are excited to be running our first survey to find out what you think. Help us shape the future of the Open Knowledge Foundation – we value your input. There are 24 questions and it will take approximately 10 minutes of your time. Deadline for responses is December 14, 2013 17:00 GMT. If you would like to know more, read our blogpost.
We will share the results and follow-up actions in January 2014. Thank you.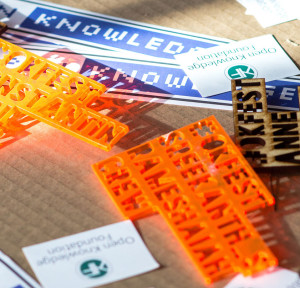 OKFestival 2014, 15-18 July, Berlin – get involved!
The Open Knowledge Festival will gather open-powered communities, projects and individuals, both experienced and newcomers, from all around the world. Now is the time to get ready and we invite you to start meeting up, in person and online to think about what amazing projects and ideas you would like to participate in, and what contributions you can make. A new website will be ready soon and we will shortly call for proposals to shape the agenda together. More information is on our blog. Follow @OKFestival, share ideas and questions using the hashtag #OKFestival or write to us, and sign up for the festival newsletter for all upcoming OKFestival news. Get meeting, sharing and making!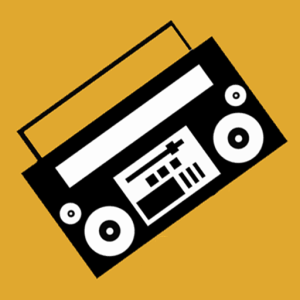 Making news
We have signed a MoU with the BBC, a great step for openness. The first joint initiative will be with Wikimedia in January to coordinate the first ever "speakerthon". Using the BBC's vast radio archive, participants will tag and select snippets of notable individuals' voices in order to upload them to Wikipedia articles as open content. More information.
The Open Knowledge Foundation has also joined more than 30 civil society organisations to sign an open letter urging for greater transparency around the Trans-Pacific Partnership negotiations. It calls for an equal level of participation for policy makers, civil society, and members of the public with that of industry representatives.
We congratulate **Rufus Pollock for being elected an Ashoka Fellow** "the global association of the world's leading social entrepreneurs – men and women with system changing solutions for the world's most urgent social problems." Rufus says that he is "honoured to accept the fellowship, but what is really exciting is seeing the work of the Open Knowledge Foundation on open data and open knowledge being recognised as a key aspect in driving positive social change in the twenty-first century".
Spending Stories is officially launched! This new app helps citizens and journalists understand and compare financial data from news stories. If you would like to know more about the project, get in touch.
A new partnership has been announced between the French Ministry of Culture and Communication and the Open Knowledge Foundation France to map the Public Domain in France. The Guardian has called the Public Domain Review a 'model of digital curation' which showcases 'the best and quirkiest texts, images and films the internet has to offer'. Check out the new PDR store with a selection of beautiful prints, t-shirts and other great gifts.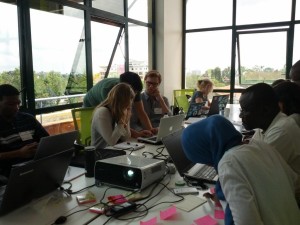 Making a difference
What does open data / open knowledge have to do with crisis mapping? Crowd-sourced digital maps created by online volunteers worldwide are powerful tools in humanitarian relief work. Volunteers worked 24/7 when Typhoon Haiyan (Yolanda) hit the Philippines. At the International Conference of Crisis Mappers (ICCM) in Nairobi, Kenya, the School of Data hosted a full day pre-conference training session as part of the mentorship programme. To learn more read the blog report.
Our "Follow the Money" website was launched at the Open Government Partnership Summit and you can read about it and also follow the livestreamed panel discussion. If you are interested in using information about public money to hold decision-makers to account, then we hope you'll join us and sign up.
The recent event which brought together a group of open education enthusiasts has resulted in the building of an Open Education Timeline. The timeline has now been 'put online' using TimeMapper and we need your help to ensure that includes all the most important dates and consists of good quality data! We'd like to make it the the most comprehensive Open Education Timeline to date! If you are interested in contributing then take a look at our post.
Enter the LinkedUp "Vidi" Competition, the second second competition in the LinkedUp Challenge. We're inviting you to design and build innovative and robust prototypes that use open data for educational purposes. There are prizes to be won and we can offer support. Find out more on the LinkedUp Challenge website.
Coming up
Open Knowledge Foundation India is celebrating December as open knowledge month! If you're in the area, join them.
Learn how opening data can transform society and how to do it, at a one-day introductory course on Friday, 6 December in London – there are a few places left.
Join the School of Data online Data Expedition to investigate the Nigerian extractives industry on December 7 with OpenOil. There is still time time to register.
Images: symbol by Natalie Swencki, CC-BY; OKFestival CC-BY; School of Data session at ihub for ICCM, CC-BY.
Elaine is the Marketing and Events Manager for the Open Knowledge Foundation, based in Cambridge, UK.