This blog is part of the event report series on International Open Data Day 2017. On Saturday 4 March, groups from around the world organised over 300 events to celebrate, promote and spread the use of open data. 44 events received additional support through the Open Knowledge International mini-grants scheme, funded by SPARC, the Open Contracting Program of Hivos, Article 19, Hewlett Foundation and the UK Foreign & Commonwealth Office. This event was supported through the mini-grants scheme under the Open Research theme.
For the 5th time in a row, the Open Knowledge Nepal team led the efforts of organising International Open Data Day in Nepal. This year it was a collaborative effort of Kathmandu Living Labs and Open Knowledge Nepal. It was also the first official event out of Kathmandu Valley of Open Knowledge Nepal. Organisations like Code for Nepal, Gandaki College of Engineering and Science and Open Access Nepal were the partners for the event.
The aim of our Open Data Day event was to serve as a platform for bringing together open knowledge enthusiasts from different backgrounds, and support a series of collaborative events for enhancing knowledge and awareness about free and open source software, open data, open content, and various open knowledge technologies in Nepal. The event was divided into 4 different major activities:  
Presentation Session

Open Street Mapathon

Open Research Data Hackathon

Treasure Hunt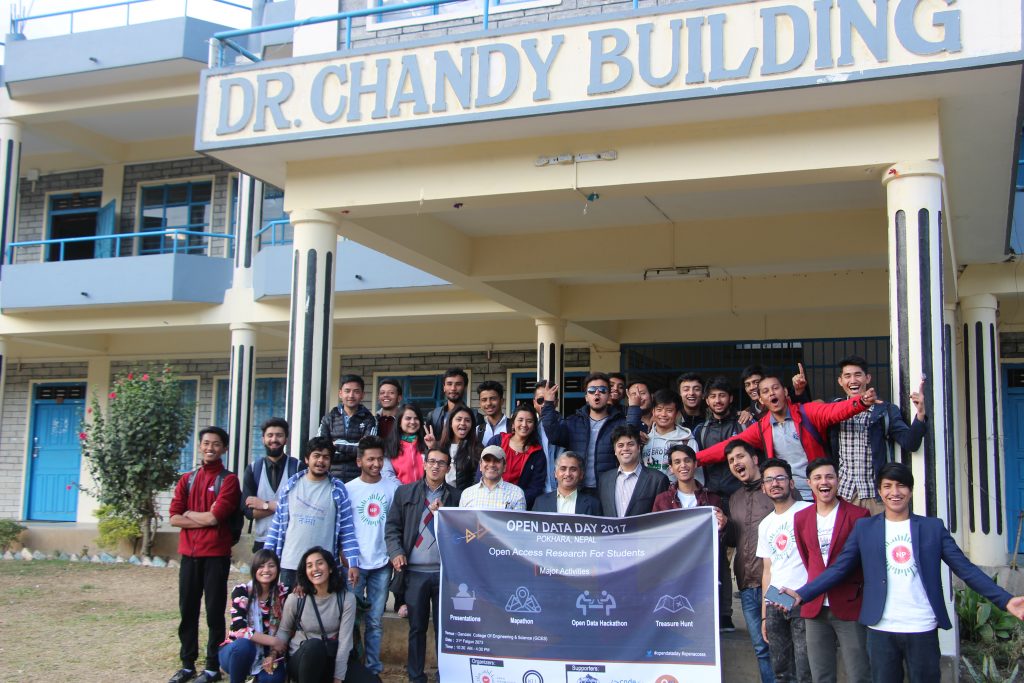 About 40+ participants registered for the event, most of whom had an engineering or computer science background. The event was formally started by Mr Ashok Raj Parajuli, the Vice-Principal of Gandaki College of Engineering and Science at 11:20 AM (NPT) who gave a brief introduction of open data and why it is important for a country like Nepal. There was also a short orientation from Nikesh Balami of Open Knowledge Nepal (OKN) on how Open Data Day was started and the history of Open Data Day celebrations in Nepal. After having a brief orientation about major activities, the presentation session started.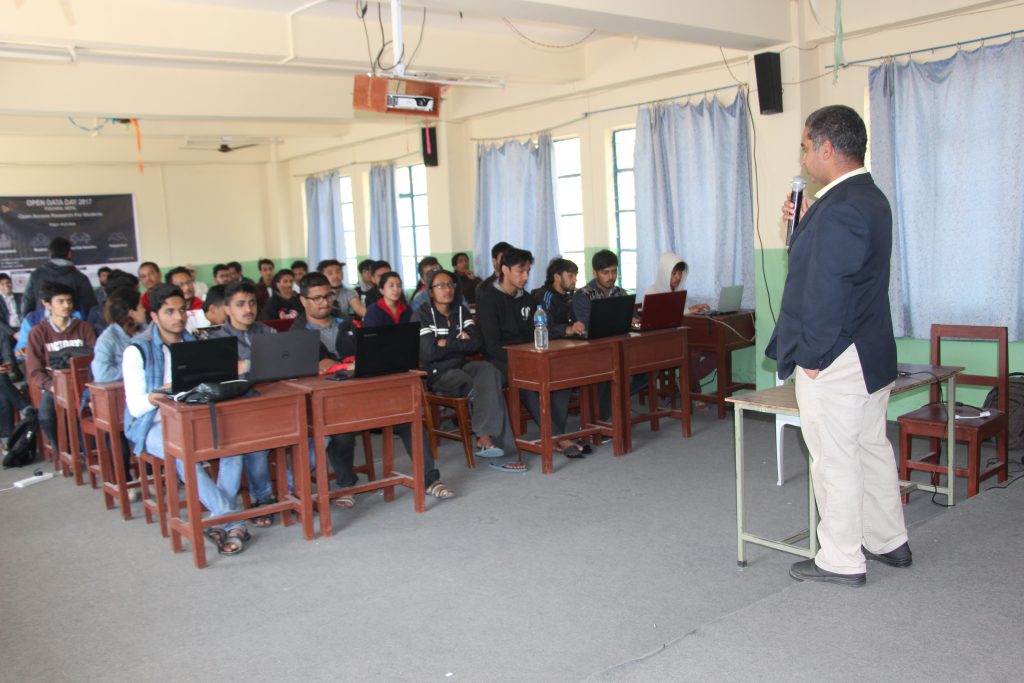 Presentation Session
Gaurav Thapa from Kathmandu Living Labs presented on Open Map Data and the concept of 2C (Secondary Cities) Pokhara. He demonstrated the work done by Kathmandu Living Labs in Pokhara with the help of other organisations and welcomed the contributions and collaborative efforts from the participants. He also shared the "Prepare Pokhara" – an app which uses the data of OpenStreetMap with different kinds of filtering techniques. By using that app, users can easily filter and navigate all kinds of important places and destinations of Pokhara in the Map.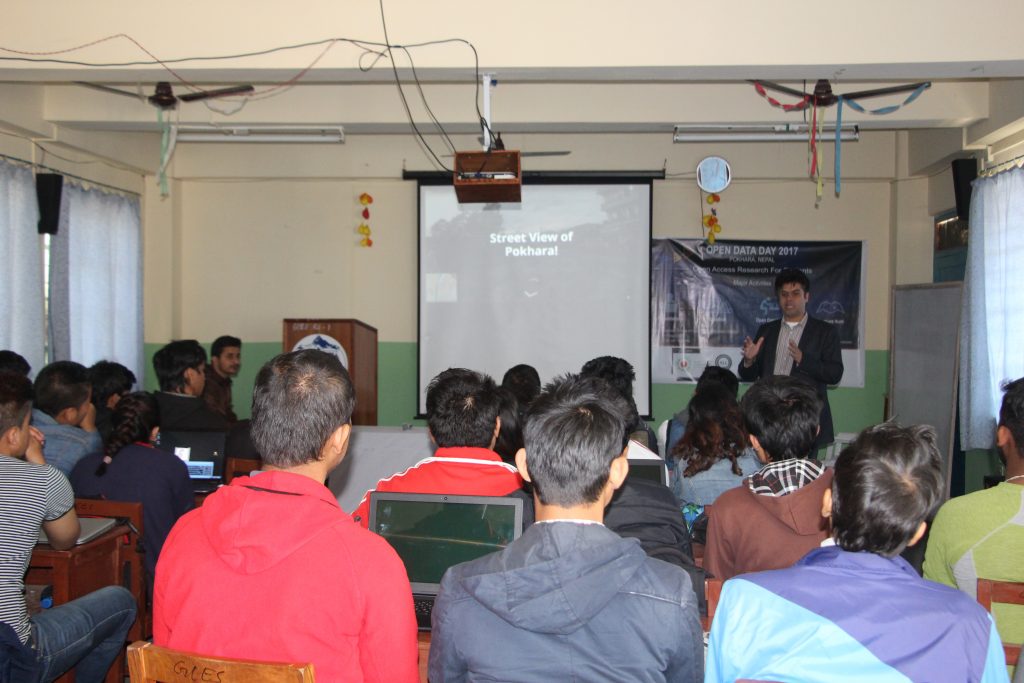 After Gaurav's presentation,  Kshitiz Khanal of Open Knowledge Nepal Opresented on open access, open science and open research. He started with a basic introduction of OPEN and highlighted the condition of open access in Nepal. He also demonstrated how Nepal's government and other bodies within the government are creating open access barriers for users. He shared on Open Science Taxonomy and talked a little about the open science and research practices in Nepal. He motivated the participants to read research articles frequently so that we can make the best use of publicly funded research. His presentation can be accessed here.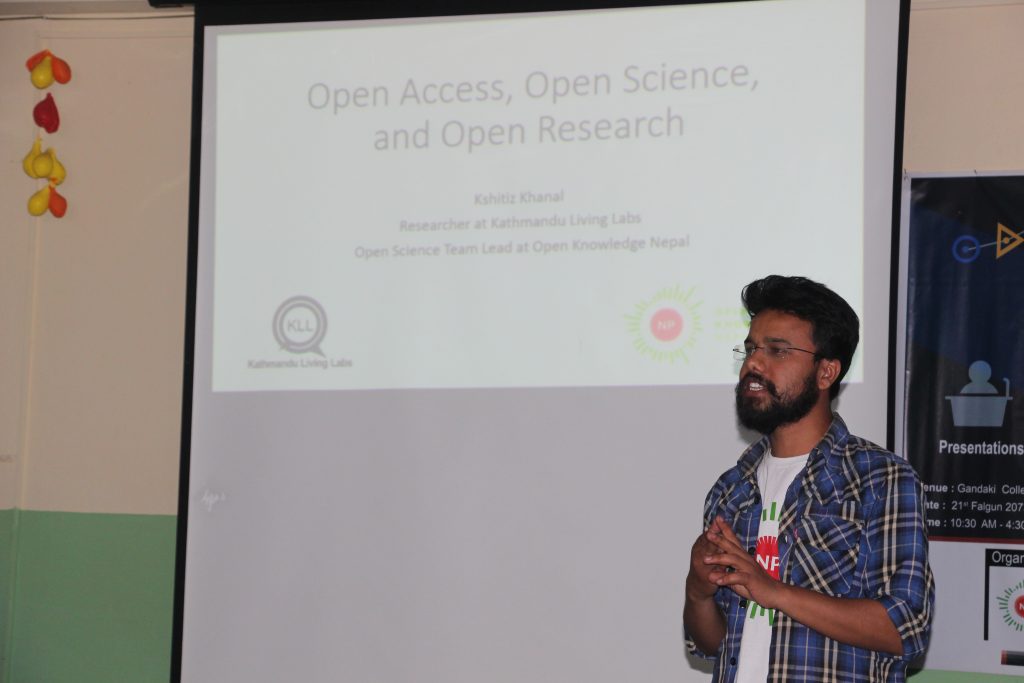 There was a short break after the Presentation Session for the space to be divided for Open Research Data Hackathon and Mapathon. Participants interested in joining the hackathon moved towards the Lab and those who were interested in Research Data Hackathon stayed in the same room.
Open Research Data Hackathon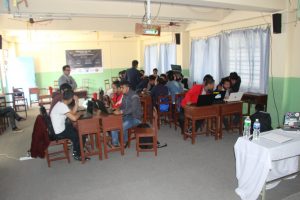 The Open Research Data Hackathon was facilitated by the Open Knowledge Nepal team. Nikesh Balami started the hackathon by giving a short presentation about data and demonstrating the different kinds of tools they can use during the hackathon. After an orientation, the group was divided into 4 groups to work and brainstorm on different kinds of ideas for the entire day.
There were two rounds of pitching where each group was given the opportunity to pitch their brainstormed idea in the first instance, and also share how they were going to do that project, including possible partners, challenges, and opportunities. The proposed ideas of all 4 teams were entirely different from each other. While one team worked with election data, the other will be using machine learning to extract research data from user search queries. Another team is using data for disaster prediction while the last team will be working with Blood data.
It will be interesting to see the progress of their projects in the coming days.
Mapathon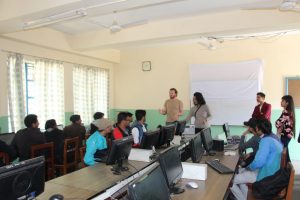 The Mapathon was facilitated by the team from Kathmandu Living Labs. Here, participants used satellite images to map the Bardiya district of Nepal at OpenStreetMap. Participants were given the opportunity to play with data from Open Map and OpenStreetMap.
The KLL team also led a Treasure Hunt in-between the session to make the Mapathon interesting and interactive. Participants went to the fields in the search of treasures which were hidden at different places by the KLL team. Participants used OpenStreetMap for this and enjoyed the activities so much. In fact, the Mapathon session was interactive and participant got hands-on training on how to contribute at OSM, did some contribution and also tried using it in their real life.
The event came to a close at 04:30 PM. With the interest and enthusiasm shown by the participants, representatives from Open Knowledge Nepal and Kathmandu Living Labs decided to organise similar events outside the main valley of Nepal. The event also highlighted the need for CSOs working in Nepal to extend their awareness and advocacy work on open access and open data to the different local cities so there will be equal knowledge distribution.
This year's International Open Data Day 2017 was organised at four different localities in Nepal. Two were at Kathmandu and were organised by YoungInnovation Pvt. Ltd. and by Accountability Lab. The third event was in Pokhara which was organised by Open Knowledge Nepal and Kathmandu Living Labs.  Kathmandu University Open Source Community (KUOSC) also organised the first ever ODD event in Kavre. This shows that the momentum of open data is increasing in Nepal, which we (Civil Society Organization) can take as a plus point.
Group selfie ?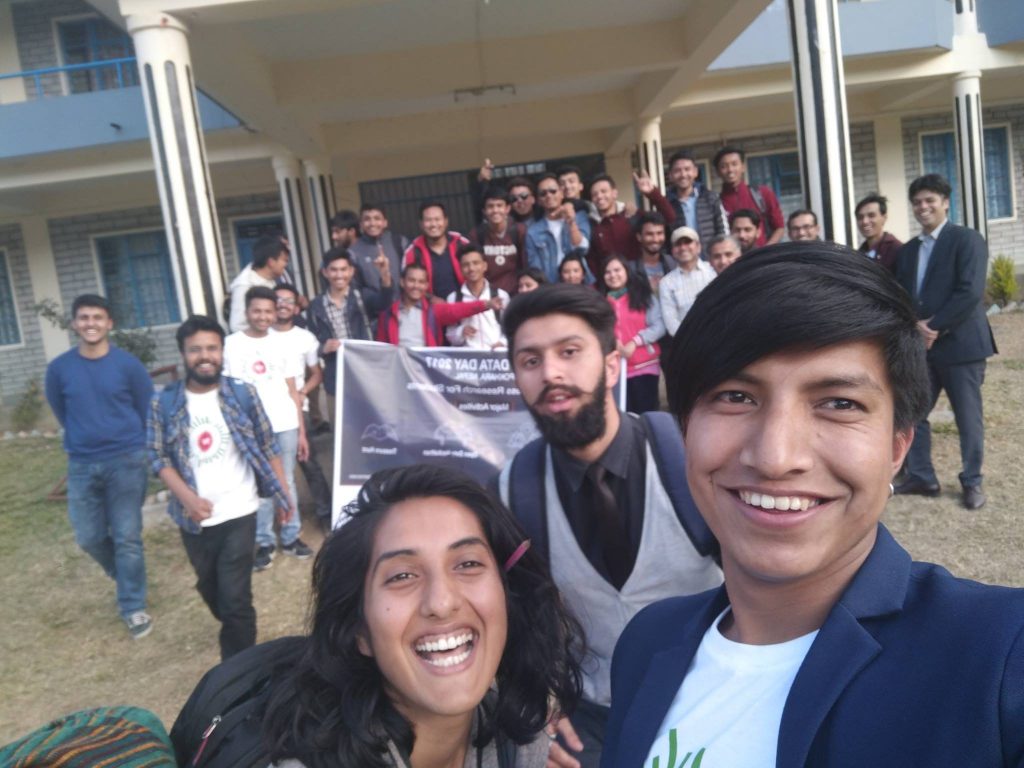 Event Page: https://oddnepal.github.io
More photos on our Facebook page here.

Nikesh is an open data advocate and tech researcher based in Nepal. He is a strong supporter of open source software and believes in the vision of Open Knowledge to empower citizens regarding technology usage and open data. He loves coffee chat, tweeting, hackathons, blogging, traveling, and open data. As an International Open Data Lead, Nikesh works closely with Open Data communities from all over the world. He also leads Open Knowledge Nepal, one of the active networks of OKF since 2013.