The eight edition of Open Data Day took place on March 3, 2018: an exciting milestone for the open data communities and a great opportunity to put open data into action. In this blog, we take a look back at what happened across the world on this day.
First of all, we were happy to see that this year a total of 406 events were registered on our world map! This is almost 100 more events registered in the opendataday.org map than last year. We have noticed growth mostly in the global south, specifically in African and Latin American countries.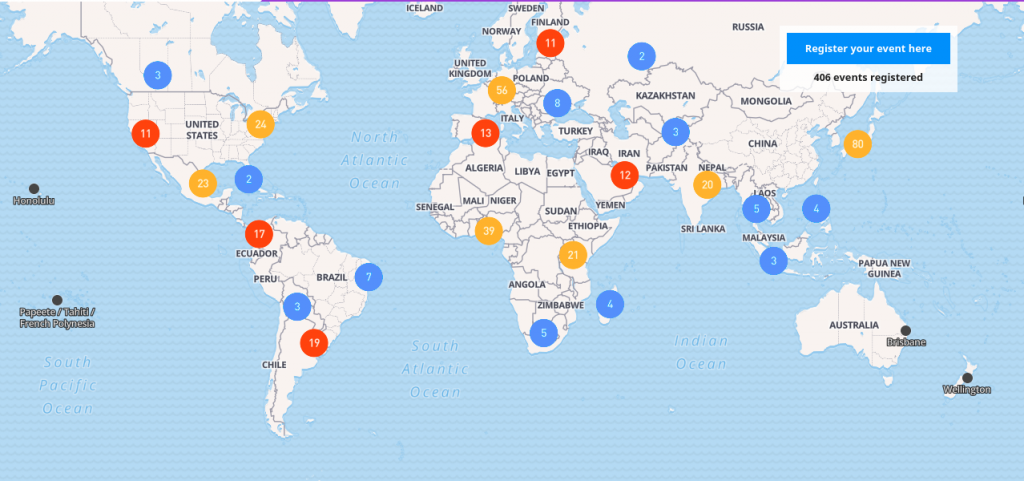 45 events received funding through the Open Data Day mini-grants funding provided by SPARC, the Open Contracting Program of Hivos, Mapbox,the Hewlett Foundation and the Foreign and Commonwealth Office of the United Kingdom. This year, the focus was on four key areas that we think open data can help solve: Follow Public Money Flows, Open Research Data, Open Mapping, and Equal Development. Based on the information provided by the groups that requested a mini-grant, most of them were organizing an Open Data Day event for the first time.
A few highlight of the different tracks:
During the Open Mapping event in Helsinki, Finland the Humanitarian OpenStreetMap Team with about 20 participants, most of them newcomers, contributed 1555 buildings and 113 kilometres of roads and paths. Results:

http://ernoma.github.io/mapathon/ODD2018/

For the Equal Development track,

She Codes for Change

trained 27 young girls aged 15-19 from Secondary Schools in Dar es Salaam, Tanzania on the basic concepts of data visualization, Scratch and photography.

The Open Science community in Philippines discussed and mapped the challenges to make more

data available for open research projects

.
I'm here to show my support for the females in my school to let them know that with data,we can all work together regardless of gender and achieve a lot. ??@okfn @nonprofitorgs #OpenDataDay #OpenDataDay2018 pic.twitter.com/N0LGhCeKLb

— WELTI NIGERIA (@welti_ng) March 3, 2018
To increase connections between groups, we set up a blogging schedule this year that connected the different events. Mini-grantees were linked to each other based on a similarity in topic, location or type of event. This resulted in a series of Open Data Day blogs that reported on activities from different angles, and of course also in more contact between the different organisers – something we hope will extend also beyond the actual event itself. Below is the list of all blogs of this edition per topic, for easy future reference:
Follow Public Money Flows
Open Research Data
Open Mapping
Equal Development
Apart from these many events, Open Data Day was also celebrated online: we counted over 11.500 tweets using the hashtag #OpenDataDay! Our developer advocate Serah Rono harvested, analysed, packaged and published the Open Data Day affiliated content from Twitter – she describes in this blog how you can do the same using R and our Data Package Creator (and you can view the data there too).
We summarised some of the Twitter highlights visually during the day itself: you can check up on what happened in the different continents here:
#EnFotos? || Así estuvo el Conversatorio "Los Datos Abiertos como Política Pública". Iniciativa impulsada por el @CNTI_VE en el marco del #OpenDataDay pic.twitter.com/SoyTls2bv1

— CNTI (@CNTI_VE) March 2, 2018
We also started a thread to highlight examples from the timeline on how open data can help in achieving societal impact – click the tweet below to see some of the examples we found and received.
It's not always a straight line from #opendata to impact, but we believe strongly that data can help address societal challenges. We are seeing some interesting examples of this today at #opendataday. We'll add some of them to this thread. Please add yours as well!

— Open Knowledge Intl (@OKFN) March 3, 2018
We are excited about the new edition of Open Data Day. We are already thinking about how we can make it a more useful, more engaging day for the growing open data community. If you have any ideas for your community, please reach out through either our forum or the Open Data Day mailinglist.  Many thanks to everyone who contributed to making this Open Data Day a success – on to 2019!
As Communications Officer, Lieke works on increasing the profile and awareness of Open Knowledge Foundation projects online. She previously coordinated the OpenGLAM initiative, promoting free and open access to digital cultural heritage data and has been managing European projects in the areas of open cultural data, open access and open science. She is based in Berlin, where she also serves as Community Director of the Disruption Network Lab.